The jury is free to award as many, or as few, awards in every category as they wish. From all the entries they may choose to make Gold, Silver and Bronze Awards for Best Writing and for Best Art Direction/Design.
From all the Gold winners they will choose the Best in Show Award sponsored by BBDO.
Their recommendations will help the jury President determine The Courageous Client Award sponsored by WPP.
Because entries are free, winners are asked to pay for their trophies and certificates.
These can be purchased from the store.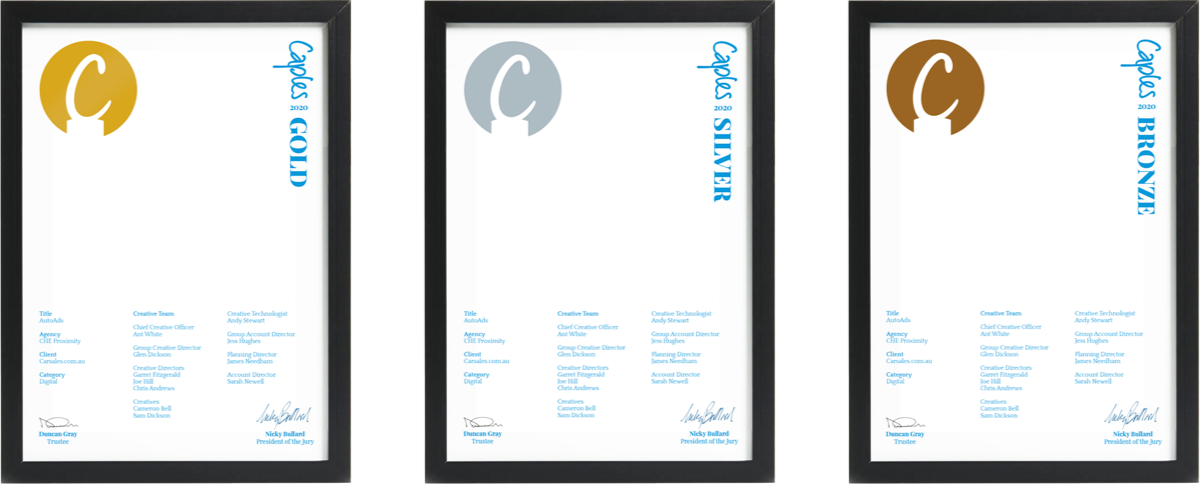 2023 Categories
Entry Rules
Enter Now →
Ambient/Guerilla/Out of Home

Any idea using outdoor media, special builds, 3D installations, street art, events, pop-up activities or any out-of-home activity or stunt.

There were three Golds in this category in 2021, including "Donation Dollar" from Saatchi & Saatchi Australia for The Royal Australian Mint HERE

Branded Content

To include scripted and acted films, virals, unscripted films, documentaries, UGC, interactive films, livestream broadcast of an event, content captured and shared at a live event, immersive experiences including 360 video, AR and VR experiences. Also podcasts and influencer videos which seek to share the values of a brand and generate conversation around it.

See McCann London's 2021 Gold for the 3-minute 30-seconds video "Snoop Dogg's Christmas" made for Just Eat, which also won a jury prize for Best Writing HERE

Creative Use of Data

Any idea in which a data-driven insight led to a creative idea, any instance of data leading directly to increased engagement and/or improved performance, any instance of AI, machine-learning or data analysis leading to a deeper understanding of behaviour and to better results.

Four Golds were awarded in 2021, one of which was "Astronomical Sales" by FP7 McCann MENA for Mastercard HERE

Digital B to B

To include websites, microsites, apps, digital platforms, installations or projections, connected entities, banners, pop-ups, take- overs, online video ads, films, widgets, tools or digital services, apps and games. Also, social media, campaigns using search and social messaging and video platforms.

See VaynerMedia's "Future Official Sponsor" Gold-winning work in 2021 for Budweiser HERE

Digital B to C

To include websites, microsites, apps, digital platforms, installations or projections, connected entities, banners, pop-ups, take- overs, online video ads, films, widgets, tools or digital services, games and email. Also, social media campaigns using search and social messaging and video platforms.

See "Stay Home Miles Exchange" for Thai Airways from Wunderman Thompson Bangkok which won one of the two Golds in this category in 2021 HERE

Direct Mail

Any item of flat mail or dimensional mail, of any volume, including doordrops, hand- delivered items or bill-stuffers, both B to B and B to C.

After several years of no Golds in this category, hurrah for MRM London in 2020, who won with "Masterclassics" for D&AD HERE

Healthcare – NEW category

Any idea in any medium which sells or supports branded medicines or products, foundations or medically-oriented organisations, health services or health-related issues.

There's some great work happening in this area and we'd like to see some of it.

Innovation

Any individual idea that delivers a new way for brands to engage with customers, or that brings a new solution to a marketing problem, using beacons, facial-recognition technology, voice search, VR or AR, wearable technology etc.

Six Golds in 2021. Check out "The Purple Hive Project" for Bega Foods from Thinkerbell Australia HERE

Integrated

To include any campaign that works across different paid-for channels, social media platforms etc to include PR, editorial, events and branded activity.

See Colenso BBDO's "Take a Baby Step Into Parenting" for Mars Petfoods (Pedigree) HERE

Mobile

To include any example of mobile/tablet/ connected device app, SMS solution, location-based idea, video, banner or social media video designed specifically for a hand-held medium.

Five Golds in 2021. See BBH Singapore's winner "Running Stories" HERE

Newcomers Award – NEW category

Sponsored by Publicis Groupe UK

It can be a TV commercial, a print ad, a stunt, a game, an interception. But it has to be the work of a student or of any person outside the industry looking to get started as a creative.

This category will be judged separately by Publicis Groupe UK creative directors. Winners may be offered a place on the Publicis Students' Workshop, a six week creative course run by creative leaders from six different Publicis agencies.

N.B. While winners may come from anywhere in the world, the course runs out of the UK only.

Not for Profit

To include any video, online, offline experience, mailing, print, direct response TV execution or campaign produced for a charity, NGO or cause - related action.

Three Golds in 2021. See Rothco Ireland's "Sleeping Flags" for Homeless Charity O.N.E. HERE

Planet Earth – NEW category

Any piece of creative work in any discipline that is concerned with one of the world's most pressing problems at the moment – damage to the environment. Climate change, pollution, waste treatment, food waste, sustainability in farming, biodiversity, deforestation and clean energy are all worthy topics. Also any communications aimed at governments and political leaders to influence policy change.

The 2021 Gold in PR from BBDO Germany for WWF, "Eurythenes Plasticus" would be a worthy entrant in this category HERE

PR

Any story which helped to promote, enhance or protect a brand or an organisation in both B to C and B to B communications across any and/or all media, including TV, print, online, events etc. This includes use of social media platforms as well as activity that uses influencers and content creators.

See one of the seven Golds awarded in this category in 2021, "The World's Tallest Donation Box" for The Mohammed bin Rashid Al Maktoum Global Initiatives by MullenLowe MENA HERE

Print Advertising – NEW category

To include brochures, leaflets, flyers, catalogues, annual reports and point-of-sale material as well as newspaper and magazine ads. Any example of branded creative thinking that uses print in any way.

Reporting campaign results is not mandatory for this category.

See Almap BBDO's campaign for "Wasabi Doritos", which won a special jury Gold for Best Art Direction in 2021, HERE

Radio Advertising – NEW category

Entered in previous years in 'Traditional Media', Radio gets a category of its own.

To include radio commercials of any length, any innovative use of radio as an advertising medium and any sponsored messaging within a relevant radio programme. Also any branded podcast or audio-first content, any use of voice-activated technology or audio technology.

Radical new strategy

To include any major change of direction for a brand, any radically new media solution, adoption of new technology or attempt at market disruption.

Five Golds in 2021, among them "Mr. Humfreez" from TBWA New Zealand for ANZ Bank. See the case study HERE

TV and Video Advertising – NEW category

Replacing 'Traditional media' from previous Caples Awards festivals, this category covers all film and video commercials, whether made for TV broadcast or for cinema or for YouTube, Facebook, Instagram, TikTok and other digital platforms. It includes TV sponsorship idents and buffers. This category is not a substitute for nor a replica of Branded Content. It is any communication with moving images that pushes a specific product or service with a sales message.

Ogilvy Spain won Gold in 2021 in Traditional Media for Cruzcampo with a TV campaign in which they recreated the legendary Andalusian singer Lola Flores. See the work HERE
Please note
Where most other international awards shows have a plethora of sub-categories, we try to keep it simple at The Caples. Instead of Best Email, Best Banner, Best Use of Social, Best Use of an Influencer, Best Website, Best Platform, Best App, we just have two Digital categories - B to B and B to C. The jury can tell the difference between a campaign of bumper ads designed for YouTube and an interactive microsite – and will judge accordingly.
Ask a question
Special Awards
The Craft Awards
From the winners in the 18 categories they have judged, the jurors will select the Best in Show Award sponsored by BBDO.
They may also select Gold, Silver and Bronze winners for Best Writing and for Best Art Direction/Design.
In 2021 the jury gave one Gold and three Silvers in Best Writing and three Golds and one Silver for Best Art Direction/Design.
The President's Awards
The President of the jury has the final decision as to which client, as evidenced by the winning work, is worthy of the Courageous Client Award sponsored by WPP.
Andi Emerson Award
The President also may give the Andi Emerson Award to any person he or she feels has made or is making an exceptional contribution to creativity.
In 2021, President of the jury Steve Aldridge gave the Andi Emerson Award to Julian 'Dougie' Douglas, Chairman of VCCP Worldwide and President of the IPA 2021-22, in recognition of his work with the BRiM initiative.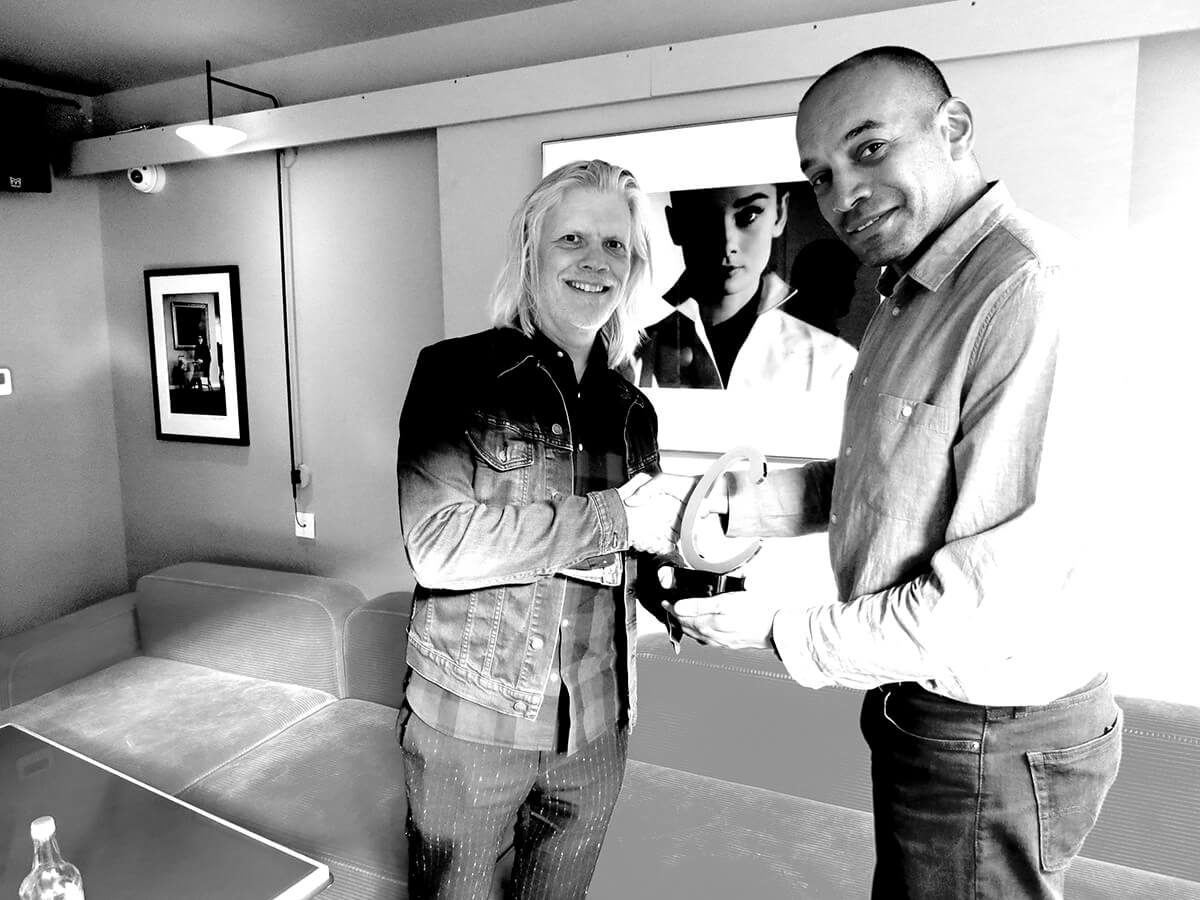 President of the 2021 jury Steve Aldridge presenting Julian 'Dougie' Douglas with the Andi Emerson Award.