Jury President 2019
Alfonso Marian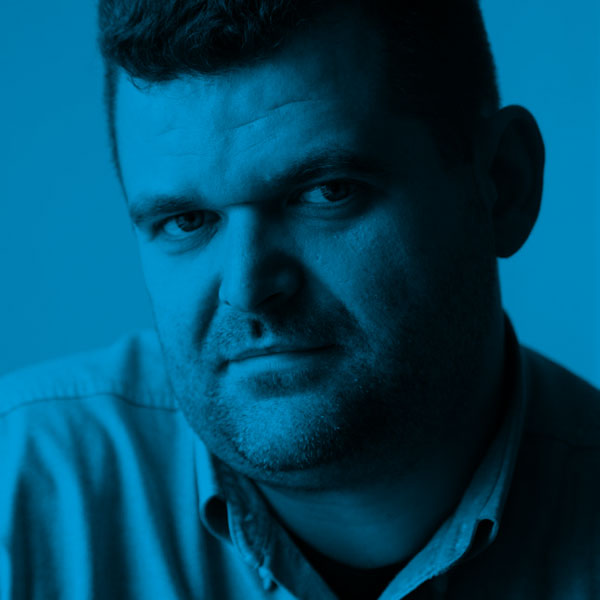 Alfonso has won over 150 international awards at shows including Cannes Lions, D&AD, One Show, Echo Awards and, naturally, The Caples International Awards. In 2009, Alfonso was recognised by The Caples with the Irving Wunderman Award for "developing talent, imagination, curiosity and passion into a creative body of work over time."
He also has been on the panel of judges of most of these major awards shows.
Alfonso began his career in advertising as an art director at Proximity, Madrid, in 1994. He became creative director in 1996 and executive creative director in 2001. In March 2004, he joined Shackleton as partner and executive creative director. During his time at Shackleton (2007- 2009), the agency was awarded Best Direct Agency at Cannes three years in a row and Best Direct Agency by the Won Report.
In August 2011, Alfonso joined OgilvyOne New York as Chief Creative Officer and in 2014 became a member of OgilvyOne global board. In 2016 he joined Ogilvy's Worldwide Creative Council and in July 2017 he was promoted to co-Chief Creative Officer for Ogilvy USA.
In January 2019 Alfonso returned to Europe as Chairman and Group Executive Creative Director for Ogilvy Spain.
Steve Aldridge
Chief Creative Officer, Wunderman Thompson UK

Steve is known for being a creative champion, a successful business founder and an effective network leader.

He co-founded the creative agency, Partners Andrews Aldridge, where his ability to integrate people, business and clients around ideas helped to shape the agency. He believes ideas are everything. And not just executional ideas, business transformation ideas too.

Under Steve's stewardship, the agency won over 200 awards, creating iconic work which frequently changed and redefined the category. Named Agency of the Decade once and Agency of the Year four times, Partners Andrews Aldridge was shortlisted for Campaign Agency of the year in 14 out of 19 years.

In 2008, the agency became part of the Engine Group, where Steve spent the last nine years as Executive Creative Director, leading clients such as BMW, Rolls-Royce and BACS.

Steve has continued to be an international speaker, awards judge and regular contributor to Campaign.

He left Engine in 2018 and is currently working with a number of creative companies and clients direct, advising them on their marketing and business strategy in the UK and internationally.

Andrew Ambrogioni
founder and executive creative director @ Storytellers

Andrew came to South Africa from Florence, Italy, at the age of 11.

After two years military service, he studied advertising and marketing.

25 years later he can look back on a career in which he founded two of South Africa's top Direct Marketing agencies. Action Ambro's earned The Financial Mail's accolade of Top Specialist Agency in South Africa.

He has been Direct Marketer of the Year and is the youngest member of South Africa's Marketing Hall of Fame.

He has walked on stage to collect over 125 local and international awards and has been a judge at local and international awards shows, including Cannes Lions, Dubai Lynx and, now, The Caples.

As well as triumph, Andrew has also known near-disaster, when a fraudulent accountant ripped a huge sum of money out of his company.

His latest venture is Storytellers, a new agency exploring motion picture marketing, which sets out to explore the new boundaries of communication and challenge norms.

He is a regular speaker at international marketing conferences.

Mario Bertieri
CCO and CEO Los Goodfellas, Bogota, Colombia

Mario Bertieri is CEO and CCO at Los Goodfellas, the agency he founded five years ago to guive brands purpose and help them add value to people's lives.

Mario started out as a designer at Y&R Colombia before switching to become a copywriter. He was a creative director at McCann, then Chief Creative Officer of Sancho BBDO, Colombia's biggest agency, before moving on to be CEO and CCO of Proximity Colombia.

After four years there, Mario left to pursue the dream of running his own shop and founding Los Goodfellas, the most effective independent agency in Colobia according to Effie 2018.

Mario has had the honour to be a jury member of The Caples Awards four times previously.

Thijs de Boer
ECD Cheil Benelux

Thijs studied Law at the University of Amsterdam and was a freelance writer for various newspapers at the same time.

Subsequently he wasted some time at an insurance company but saw the 'light' in 1999 at The Academy for Applied Creativity in Amsterdam. Right now he is ECD Cheil Benelux and Creative Chairman Cheil Europe.

He started at Lowe in 2000 as a copywriter moving on to JWT Amsterdam, where he spent 10 years as CD. In 2011 he became ECD of Euro RSCG Amstedam, transforming a 'forgotten' agency into one of the top 10 most-awarded agencies in the Netherlands.

From 2014 he worked as an ECD at Y&R Amsterdam and in April 2016 he became ECD for Cheil Benelux.

Thijs has been on juries at Cannes Lions (2011 & 2013), ADCN (2011) Dubai Lynx (2013) , ADCN (2018), The One Show (2018).

He has won personally seven Cannes Lions, four Webby Awards, numerous One Show pencils, Clios, Eurobests, Epicas and Effies.

Kay Cochran
SVP, Group Creative Director at Rodgers Townsend DDB

Kay Cochran is one of the founding group who helped build Rodgers Townsend from an eight-person shop to a 100-plus Omnicom agency in Saint Louis, Missouri. As a writer and a Creative Director, Kay has created and helped shape campaigns for AT&T, Anheuser Busch, Enterprise Rent-A-Car and more, with a particular knack for stimulating response and engagement. Her work in digital, social, TV, print and radio has been recognized by the National Addy Awards, as well as Communication Arts, Luerzer's Archive and Creativity. She's currently serving as the GCD on AT&T Business, creating social campaigns and mentoring teams. She's also known for her short-term obsessive hobbies, which at current writing includes a determined stint as a "Mini Medical School" student.

Glen Dickson
Executive Creative Director, CHE Proximity Melbourne

Over his 20+ year career, Glen has worked at many of Australia's leading agencies including Clemenger BBDO and DDB. He has been Group Creative Director at CHE Proximity Melbourne since 2017. In that time, Glen and his team have enjoyed a stellar creative run. Winning multiple awards at shows including D&AD, Cannes Lions and One Show. Notably also taking out Best in Show at the 2018 Caples Awards for carsales.com.au 'AutoAds'.

René Eugster
Founder and Head of Creation, Agentur am Flughafen, Switzerland

An entrepreneur with passion, who completed technical and management apprenticeships before gaining 10 years of experience in client sales and marketing, René has now spent 25 years as the creative head and owner of Agentur am Flughafen, with which he has won over 300 creative awards around the world. He has also been a jury member more than 40 times, at awards such as the Cannes, the DMA Echo Award, the German, Austrian, and Swiss dialogue marketing awards, the German Best of "Business-to-Business" Communication (BoB) Awards, and, of course, The Caples Awards. Over the last 30 years he has also worked as an instructor at a number of training institutes and universities, including the Miami Ad School.

Mark Fiddes
Executive Creative Director, Havas UAE

Mark is the ECD of Havas Dubai, having been Global CD on the largest Havas client Reckitt Benckiser, as well as European CD on Jaguar and Bayer. He's also been ECD at FCB London and co-founded the international creative directors collective Idea Motel with Charity Charity.

He started his career as a campaigning journalist in Washington, D.C. after a degree in PPE from Oxford University.

He was a juror at the Cannes Festival twice and has won a fair few awards, from Cannes Lions to D&AD. He's a Fellow of the Royal Society of Arts and Honorary Lifetime Fellow of the Institute of Direct and Digital Marketing.

In another life, he writes and performs award-winning poetry with two books published by Templar Poetry, The Chelsea Flower Show Massacre and The Rainbow Factory. His poems have appeared in The London Magazine, The Irish Times, Magma, Aesthetica and many other titles. He is a recent recipient of the Ruskin Prize and was twice shortlisted in the Keats-Shelly Prize.

Klaartje Galle
Creative Director, BBDO Brussels

Klaartje Galle studied Art at St Lucas Ghent and Art Sciences at the University of Ghent before gaining a Master's in Design and Advertising at the Academy in Antwerp, where she won first prize.

She began her professional career at a small Belgian design agency but soon switched to BBDO in Brussels, where she has now spent 15 years as an Art Director.

These 15 years did not just provide her with experience in all branches of advertising, but also with many awards. Klaartje has won more than 70 major awards at Cannes Lions, Eurobest, LIA, DMA Echo and, of course, The Caples Awards.

For the past four years, Klaartje has been Creative Director at BBDO. Together with 3 colleagues she leads the creative department, handling clients such as Proximus, Mercedes, Bosch, Douwe Egberts, Axa, Recupel, Xerius, Myfamily, Novartis, SBS Belgium, Walibi, Ethias, M&M's, Euromelanoma...

Klaartje is an active member of the Belgian ACC Direct Marketing Expert Centre.

Debs Gerrard
Creative Director - LEGO EMEA

Debs Gerrard, a multi award winning Creative Director, has been part of building, launching and scaling some of the most innovative businesses of the last decade (giffgaff, Compare the Market and King - makers of Candy Crush) for which there is no set formula. She is now currently creatively leading LEGO's new in-house EMEA creative agency, helping innovate and reinvent the creative process.

In the last 12 months, she has been working with the IPA to rewrite the Creative Process section of their foundation course, mentoring entrepreneurs through the Start-Up Kitchen charity and working on a set of columns for industry magazines that will attempt to explore the fundamentals of the creative process from beyond agencies.

Debs has collected many awards during her career for Film Craft, Interactive, Outdoor and Radio from D&AD, Cannes Lions and Campaign BIG to name just a few.

Ian Haworth
Chief Creative Officer at Wunderman EMEA

Ian's career in advertising has seen him go from tea boy at an art studio, to being the creative lead at global agencies including DMB&B London, Saatchi & Saatchi (New Zealand), TBWA London and Rapp. Today, as EMEA Chief Creative Officer for leading digital agency Wunderman (part of the WPP network), he over-seas the creative output of 78 offices across 36 countries.

Ian has been humbled to judge some of the industry's major contests from D&AD to Cannes Lions, as well as work with some of the most future-facing brands. Having built and overseen some of the brightest creative and strategic teams in the business, he has over 100 awards to his name.

As a creative leader, one of Ian's primary ambitions has been to raise creative standards, champion inclusivity and nurture talented individuals. He has dedicated his career so far to finding people from diverse backgrounds, with different voices each with the appetite and ability to see things differently.

Marcus Iles
Group Creative Director, Publicis UK

I look after Heineken UK, Renault UK and Gü. I won at Cannes, LIAs, Eurobest and Lovies with a film for Heineken. I write plays for screen and radio and books for my children. I don't dye my hair.

Rob Kavanagh
Executive Creative Director, Oliver UK

Rob's built a career working across all facets of integrated marketing - from the humble DM letter through to the hallowed TV spot. Starting out in NZ, he then copywrote his way through many of London's seminal through-the-line agencies including the likes of Harrison Troughton Wunderman, Craik Jones, Ogilvy and Proximity. Along the way he's been lucky enough to pick up a clutch of Cannes, IPA and DMA awards for digital and direct campaigns across everything from FS to FMCG. You'll be glad to know, in real life, he speaks in the first person - though, still with a rising inflection.

Rana Khoury
Creative Director, Leo Burnett Beirut

Rana Khoury, creative director and social entrepreneur, has been behind most of the gender-equality award-winning campaigns coming out of the Arab region.

Her work has won many awards, including 17 Cannes Lions, as well as achieving distinction at D&AD, EPICA, Effies, Dubai Lynx and, of course, The Caples. She has also served on local, regional and international juries.

She has dedicated the last few years of her career to campaigns that can bring real change on the ground. These have had huge impact both in Lebanon and elsewhere in the region, contributing to real change at an institutional level.

Rana also teaches creative writing at the American University in Beirut.

She has recently established a social enterprise called 'Phenomenal Women' that connects women survivors of domestic violence, sexual abuse and discrimination to training opportunities and job prospects.

Tony Liu
Chairman & Chief Creative Officer. M&C Saatchi aeiou

With 31 years experience in advertising, Tony was the Executive Creative Director of several international networks (Grey China, BBDO Greater China & Ogilvy Shanghai) before founding aeiou, the first boutique creative agency in China. In no time, aeiou became the hottest name in China's advertising industry.

In 2013, M&C Saatchi acquired aeiou, changing its company name to M&C Saatchi aeiou.

Tony's design work has been collected by the Museum of Modern Art in The United States, and his advertising work has won almost every international advertising award.

Thames & Hudson has published his book, "Creative Advertising - Ideas and Techniques from the World's Best Campaigns."

Tony is one of just 25 creative people from the Asia-Pacific region to receive the New York Festival's Creative Achievement Award.

He has served as judge at many international & domestic advertising awards. He was President of the Jury at the China International Advertising Festival for four consecutive years. In 2017 and 2018, Tony was the only representative from Greater China in the final judging panel of the London International Awards.

He is also Visiting Professor at Nanjing University and Master Tutor at Zhejiang University.

Elspeth Lynn
Executive Creative Director Geometry London.

Elspeth has an illustrious career, spanning over 25 years in advertising.

She stands out as being a successful, and rare, female ECD. Prior to moving to London in 2008 she owned her own agency in Canada, Zig, with two partners and 140 staff, and was awarded Agency of the Year.

In the UK, she has been the ECD at Profero, ECD at M&C Saatchi and Group Creative Director at FCB Inferno before her current role at Geometry.

She has been awarded many times over the years including Cannes (most recently for UEFA #WePlayStrong in 2018), The One Show and D&AD. She has served as a judge at Cannes twice, D&AD twice, The One Show, Communication Arts, The Clios, The Andys, The New York Art Directors Club, Creative Circle and also chaired the Marketing Awards in Canada.

She has been featured in several publications including Shots magazine, the Globe and Mail, Communication Arts, 'Who's Who in Canada', '100 Canadians to watch', 'Outstanding Women' and appeared on the front cover of 'Report on Business'.

Beto Nahmad
Executive Creative Director, VCCP Spain

Beto was born in Buenos Aires, Argentina. He is a Media Technician and studied Film and Advertising. He began his career at Agulla & Baccetti, before moving to Barcelona to work at important agencies such as Publicis Casadevall Pedren~o, Tandem DDB, JWT Delvico. After eight years, he moved to Madrid to DraftFCB as Executive Creative Director and Director of Innovation. Nowadays he leads the Spanish office of one of the UK's top agencies, VCCP. VCCP Spain reached break-even in just one year. After five years VCCP Spain had become one of the most awarded Spanish agencies at FIAP, El Sol, CdeC, Cannes Lions...

Beto also writes and direct short films.

Susana Pérez Bermejo
Executive Creative Director, Proximity Madrid

Susana has a Bachelor degree in Advertising and Public Relations from the Complutense University of Madrid. At present she is Executive Creative Director of Proximity Madrid, specialising in digital and integrated advertising..

During her 12-year career, she's always worked in interactive and direct marketing with clients including Random House Mondadori, Electronics Arts, Estrella Damm, Starbucks, Toyota, Renault, Cruzcampo, Brugal and P&G Shiseido among others. Throiugh the IAB Spain and the Creative Club, she has participated actively as a speaker at many different events. She has also been a teacher in Camilo José Cela University. She is a dynamic team-player, who strives to enhance the potential of those around her. Susana believes that, in addition to talent, the best ideas arise from the work, the work, the work. Her work has won awards at national and international advertising festivals like El SOL, Echo Awards, Caples, CdeC, Effie, Cannes Lions, El Ojo de Iberoamérica, The New York Festival, Clio Awards.

She has been a jury member at the most important festivals, including Cannes Lions, El Sol, CdeC, El Ojo, The New York Festival and now The Caples Awards.

David Prideaux
Executive Creative Director - Iris London

David is currently ECD of Iris London where blah blah blah multi-disciplinary blah blah blah integrated blah blah blah Publicis, Rapier, Circus and Dorland blah blah blah award-winning blah blah blah copywriter blah blah blah.

Doug Schiff
Chief Creative Officer, Ogilvy Japan

Doug's been the CCO of Ogilvy Japan since the beginning of 2018. Previously, he had a short stint as ECD of Digitas in Boston and, before that, a decade as a national ECD of Ogilvy China.

While there, Doug led creative on accounts including IBM, Nestle, VW, Siemens, Lenovo, Mercedes Benz, Acura and WWF, picking up honors in all major shows, including China's first D&AD Yellow Pencil and multiple Gold Cannes Lions.

He's married to a Chinese woman and enjoys nothing more than his two bi-lingual sons correcting his broken Mandarin.

Barb Williams
Executive Creative Director TrackDDB/Tribal Canada

In her job at DDB, Barb brings 25 years of diverse international experience leading and developing creative platforms, products and services.

A true hybrid creative, she has a proven track record bringing strategic and conceptual leadership across brand, digital and CRM. Barb's world-class marketing skills continually help develop effective ideas that have won multiple awards across a variety of national and multinational brands.

Her experience across an evolving list of disciplines has provided her the opportunity to judge at international and local awards competitions such as Cannes, the CLIOS, The New York Festivals, Effie, the Canadian Marketing Awards and now The Caples.

An accredited member of the Association for Registered Graphic Designers, Barb is committed to ensuring delivery of the highest professional and ethical standards when serving clients and leading employees.

A true conservationist at heart, Barb spends much of her time outside of agency life travelling to all corners of the globe, volunteering both above and beneath the surface of our oceans.

Charlie Wilson
Executive Creative Director - Ogilvy London

Charlie's marketing career started at 6 months old when he appeared on our TV screens advertising Heinz Tomato Soup. After a brief break from the industry to attend school, he found a prolific and long standing creative partnership with Emma de la Fosse.

A passionate believer in innovative solutions to client problems, he has become the most awarded Customer Engagement ECD in the world. Highlights include the 'Bench' for Cancer Research UK and 'Seer for IBM. In 2013 'The Gnome Experiment' for Kern was the most awarded Direct Campaign in the world and in 2014 'The Magic of Flying' for British Airways was the most awarded Outdoor ad in the world. In 2015, 'Looking for You' for Battersea Dogs Home was another industry first, recognised at awards shows globally.

Charlie has a truly integrated skillset having spent 11 years as an Art Director at advertising agencies such as Bainsfair Sharkey Trott and DFGW before coming to OgilvyOne in 1998 to embrace Direct and Digital. Whatever the channel, he loves just making great work and watching the effect it has on The Customer.

Charlie sits on numerous awards panels, from D&AD to Cannes as well as local award shows such as Campaign Big and the DMAs. Outside of the agency, Charlie enjoys spending time with his sons in the dying moments before they descend into monosyllabic teenagers. He is also a keen marksman, going rifle shooting most weekends.