The Caples Awards 2023
Jury President
Laura Jordan-Bambach
President & Chief Creative Officer
Grey London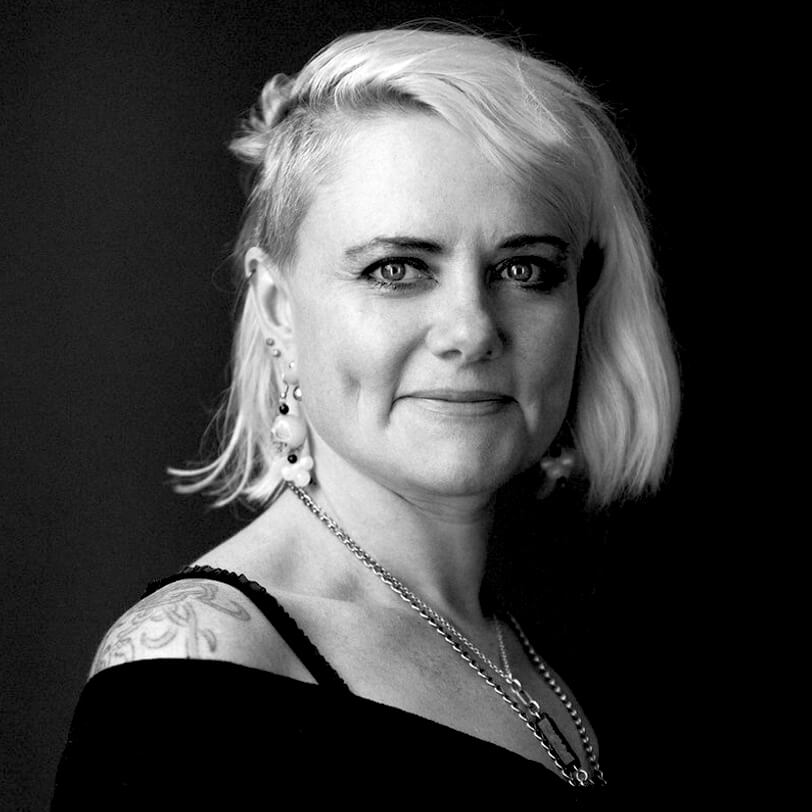 Peter Ampe Chief Creative Officer. FamousGREY, Brussels

Peter is one of Europe's most influential creative directors with a unique track record combining 44 Cannes Lions with 17 effie awards. He's also the author of "Abnormaal Goed", a book highlighting the creative advantages of ADHD, ASD, dyslexia and OCD. 2022 was a Grand Cru Year for Peter and his agency FamousGrey; the campaign Volvo Street Configurator won a Gold Lion in Cannes and recently a Grand Prix at Eurobest, Peter was part of the One Show Jury and the Belgian effie jury, and a second print of his book on neurodiversity is on its way.

With a Master degree in Linguistics and Literature, Peter started out as freelance journalist and language teacher for political refugees. At the age of 29 he joined the world of advertising, with the ambition to make it less about advertising and more about authenticity. In 2005 he won the first Gold Cannes Lion forhis home country Belgium, in 2008 he was the first to use mobile phones for fundraising with the campaign A Blind Call. In 2016 Peter was honoured with a Special Award for creative leadership that came with the turnaround he achieved at DDB Brussels. Today he is the CCO of FamousGrey and member of the Grey Creative Global Council.

Felipe Andrade Executive Creative Director, Cheil Brazil

With vast experience in digital, Felipe Andrade has been working in the advertising market for 20 years as a creative and content professional. His career also includes passages through agencies such as Jotacom The Cross Performance Agency, Proximity BBDO, Gray Group, G2, Rapp Brasil, Sunset and Salem. Among the brands he has worked with are Duolingo, Pepsi, P&G, Samsung, Santander, Avianca, BMW Group, Pernambucanas, Albert Einstein Hospital, SulAmérica, KeroCoco and Sicredi. Felipe also sits on awards juries regularly, in addition to winning awards at important national and international festivals such as Effie Awards Brazil and Latam, Lisbon Tech International, Lusófonos Creativity Awards, ECHO Latam and Global, Lurzer's Archive, São Paulo and the ABRADI Award, in which he was recognized as a Digital Creation Professional (2019).

Rayyan Aoun Executive Creative Director, Wunderman Thompson, KSA

Originally from Lebanon, Aoun has been getting under the skin of consumers in the Middle East and North Africa region since reading Graphic Design at the American University of Beirut. After graduating in 2004 he began building his creative reputation at J. Walter Thompson Dubai before taking up the challenge of Creative Director with J. Walter Thompson Riyadh in 2011. Aoun has worked across diverse business sectors including banking, food & beverage, telecommunications, aviation, luxury and FMCG.

In Saudi Arabia - which was widely perceived as an ultra-challenging market in which to work - Aoun discovered that restrictions actually brought a unique set of opportunities for the creative. Campaign by campaign, he has helped J. Walter Thompson spearhead a remarkable new benchmark for the quality of work to expect from the Kingdom; and award by award, he has supported a change in the global industry's perception of what the Kingdom is capable of achieving.

His brave and groundbreaking work has been recognized at international and regional award shows making Wunderman Thompson Saudi Arabia the most awarded agency in the Kingdom. He achieved the first-ever Dubai Lynx Grand Prix and Silver Cannes Lion of any agency in Saudi Arabia; and in 2019 he won the region's first ever Glass Grand Prix at Dubai Lynx.

Aoun regularly speaks at Saudi universities, businesses and schools on innovation in the communications industry. He has served as a jury member in various local and international shows.

Lars Bastholm Founder and Creative Director, Platypus Factory, Copenhagen

Lars Bastholm is an experienced creative leader whose career spans brands (Google), traditional agencies (Ogilvy) and digital agencies (AKQA). He has managed large teams (200+ people) across multiple geographies and cultures as well as built teams from scratch. He is passionate about technology, brands and storytelling. His work as a creative director has garnered many international awards, including 3 Grand Prix at the Cannes Lions Festival of Creativity. He recently opened his own creative consultancy, The Platypus Factory, based in Copenhagen, but operating internationally.

Lars is a dual US/Danish citizen. He has contributed to four books about the digital advertising industry published by Taschen. Lars is on the board of The Peabodys as well as a member of The International Academy of Digital Arts & Sciences and The Producers Guild of America. Lars enjoys movies as well as karaoke, science fiction and fine cuisine.

Matt Batten Executive Creative Director. Momentum Worldwide, Australia

Matt has invented a bio-organic printers' ink, detected cancer with a mobile phone, reprogrammed a Fitbit for a dog, produced live press ads in Excel, insured moustaches, trained horses to dance, buried money on the internet, hacked a competitor's ads, duped Google, read the minds of a string quartet, and helped you find your name on a Coke can. Doing so, he has won awards at Caples, Cannes Lions, D&AD, Clio, OneShow, NY Festival, and Effies, and built a reputation for transformational change, making agencies more creative, bringing a couple back from the brink, improving profitability and leading them to be ranked in the top 10 in their market. He likes bourbon and once stole a hedgehog which now sits permanently on his desk.

Jeannette Bohne Creative Director, Amazon Germany

Jeannette is a half-Spanish, half-German writer and Creative Director based in Berlin and Palma (well she wishes). She is obsessed with bringing love to the world by telling the right stories to the right people. And here is something for all who love listacles:

Yes: Peanut Butter / No: Meat
Yes: Star Trek / No: Star Wars
Yes: Money in the wardrobe / No: money in the bank

Ruth Boulter Creative Director, McCann London

Ruth is a multi-dimensional creative leader, brand builder and storyteller. With over a decade's experience in-house with luxury brands including Harrods and Net-A-Porter, and in some of the world's top advertising agencies including McCann New York, McCann London, Spring Studios and Atelier_Leo Burnett.

Her creative work is always shaped by her interest in beauty, fashion and the wildly changing world of the modern consumer. Whether building brand stories with strategic teams, leading creative teams of writers, designers and art directors or shooting global TV, digital content, experiential and print campaigns, Ruth's work ethic remains the same. She goes out of her way to create the most wonderful experiences for clients and brands with enthusiasm, energy and a deep understanding of how to connect with consumers in a meaningful way.

Thasorn Boonyanate (Pete) Chief Creative Officer. BBDO Bangkok

Pete is a storyteller, songwriter, film director and creator. He's started his career 12 years ago and has consistently produced highly popular, award-winning work across multiple categories and different agency networks. He handled PepsiCo, Mercedes-Benz, Tiktok, Tinder, Kleenex, Kakao, Smirnoff, ThaiBev, Mars and Wrigley, Roojai, MQDC, Nestle, Krungthai, Krungsri, TCP (Redbull Family), Huawei, Samsung, and name a few, client called him ''Crazy Pete" from the passion he has in every brief no matter how small or big it is, he gives it all.

Curiosity took him to Shanghai for a couple of years where he headed content and creative work for leading multinational brands.

Pete returned to Bangkok in October 2017, within just 10 months, had his work recognized through multiple projects in all major award shows including Gold, Silver and Bronze from Cannes Lions.

So far, he won more than 150+ awards from local, regional, and global stage included Gold from Andy, Graphite and Wood from D&AD, Gold from Spikes, Best from Adfest and Grandprix from Adstars.

Currently, he is a chief creative officer in BBDO Bangkok, probably the youngest CCO ever in BBDO Bangkok.

Rob Bovington Creative Director, The Gate, London

Rob Bovington is an experienced Creative Director with a track record of delivering big ideas for global brands - landing major industry awards along the way. Recent stand-out work Includes disruptive campaigns for HSBC UK with Richard Ayoade, and first prize for TFL's Diversity competition with 'Sex Never Gets Old'. He has been lucky enough to learn from London's best at adam&eveDDB, DLKW Lowe, JWT and now, along with his creative partner, Stephen Webley, is helping to elevate the creative output at The Gate, London.

Guy Bradbury Executive Creative Director, M&C Saatchi London

Guy is an award-winning creative leader, with 20+ years' experience in building highly effective creative teams and nurturing talent.

Throughout his career he has been Group Creative Director and Executive Creative Director at some of the world's most successful agencies. He has helped both DDB London and Saatchi & Saatchi win 'Most Awarded Agency in the World' for both creativity and effectiveness.

Following DDB, Guy went on to launch Atomic London, a leading Independent creative agency, before joining M&C Saatchi, the world's largest independent network, as their first Creative Partner.

Guy is passionate about creating distinctive brand platforms, working closely with clients to connect communications all the way through the customer journey from TV through to social. Over the years has used data and technology to reach new audiences in exciting and innovative ways.

During this time Guy has also pushed his teams to achieve creative excellence in every channel, winning over 200 awards for creativity across TV, Print, Digital, Experiential, Content and Mobile at shows including D&AD, Cannes Lions, Caples, Clio, London International, Webby and IPA.

He has also judged numerous awards, including D&AD and The Campaign Big Awards and was named one of the UK's top three Integrated creative directors by Campaign

Michal Bucholc Chief Creative Officer, GONG, Poland

Leading a wonderful team of creatives at a small creative agency GONG in Poland. Playing with technology and advertising for clients like Netflix, ING and Playstation in CEE.

With awarded campaigns such as 'The Art of Stealing', 'Midnight Sky Concert to Outer Space,' 'Tyskie's Elevator'. AI enthusiast, drone freak, and devoted cyclist.

Jonathan Butts President, Blackwing Creative San Francisco

Jonathan was raised by a shrink and a zoo curator in Kansas City, which many colleagues say, explains a lot. He got his first legit agency gig in 1996, not based upon his ad-school portfolio, but due to a series of joke complaint letters he'd been writing to corporations. That small start took him on a journey to become Executive Vice President and Executive Creative Director of Publicis Dialog San Francisco. At the beginning of 2008 (great timing) he left Publicis and started an agency, sold it six years later, and then ultimately joined one of the top B2B agencies in the U.S.

Jonathan has been an ECD for many leading brands, including Microsoft, HP, WebEx, Intel, and the Bermuda Board of Tourism. A fair share of award shows have recognized the work of Jonathan and his creative teams, including The One Show, Communication Arts, the New York Festivals, the International ECHO Awards, the National ADDY Awards — and the International Caples Awards.

If there's one defining characteristic that drives Jonathan's work, it's hunting down strategic insights that inspire powerful, simple, motivating campaigns. In his spare time, Jonathan is an avid amateur shutterbug and aficionado of all things fantasy and sci-fi.

Gonzalo Calmet Founding Partner and Executive Creative Director, 121 Latam

21 years ago, Gonzalo founded 121years ago with the objective of connecting amazing ideas with measurable results. Industrial designer by profession, Gonzalo has had a journey in the world of communication that has passed through disciplines such as direct communication, advertising, digital communications, endomarketing, and the sciences of human behaviour. He believes in the mobilising power of a great idea and in its ability to become a platform from which to connect people in different ways.

In his work at 121 Latam, Gonzalo has worked for some of Peru's and Latam's most important brands. His campaigns have earned important recognitions such as Cannes Lions, Ojo de Iberoamérica, Effie Awards, Echo Awards, among other festivals in which he has also participated as a juror.

Gonzalo's other passions are for music, photography and classic cars.

Brett Colliver Creative Director, DDB New Zealand

Brett's at that weird point in his career where he's lost track of how exactly long he's been in the industry, but over the years he's worked at DDB New Zealand, Clemenger BBDO Melbourne and Colenso BBDO.

When people ask what he does for a living, he talks about turning iPhones into androids with 'Samsung iTest', turning the tables on email scammers with a bot named 'Re:scam', and turning beer waste into 'Brewtroleum',

Included in his highest accolades are a Pencil of every colour at D&AD and a Titanium Lion and Grand Prix at Cannes.

He's sat on juries everywhere from New Zealand to Cannes but is excited to experience a Caples jury for the first time.

You can check out his work at brettcolliver.carbonmade.com

Emma de la Fosse CCO. Digitas London

Emma is a rare breed of creative director with a much sought-after mix of creative skills and experience, highly relevant for today's world.

From starting out as a junior writer at a creative 'hot shop' advertising agency she went on to run direct agency OgilvyOne with partner Charlie Wilson. Under their leadership it became the most highly awarded direct and digital agency in the UK and spearheaded the 'creative revolution' in the world of customer engagement. From there Emma went on to become the first ever CCO of the Ogilvy Group UK, which incorporated brand advertising, brand design, customer engagement, PR and B2B agencies. Her current position is CCO for one of the UKs foremost digital agencies, Digitas UK.

As well as leading agencies to creative and commercial success, Emma has also been the ECD for many famous brands such as IBM, British Airways, British Gas, Kimberly Clark and Kelloggs. She has helped those clients, and more, to win the top industry awards, recognising excellence in brand, integrated, digital, direct and mobile creativity. She and her teams have landed numerous major International awards from D&AD Yellow Pencils, Cannes Grand Prix, One Show 'Best in Show' and DMA Grand Prix through to multiple Effie awards for effectiveness. In 2020 Emma was awarded a lifetime achievement medal, the Caples Andi Emerson award which recognises outstanding creativity in direct marketing.

Emma puts her ability to flex her creativity across multiple platforms and channels down to a media agnostic, strategically driven approach. She leads by example, believes firmly in a meritocracy and can still roll up her sleeves and pitch in when needed. Ultimately, Emma is a creative leader who inspires and encourages all those around her, clients and agency alike, to greater creativity.

She is a much-requested judge at industry awards globally, a frequent contributor for publications such as Campaign Magazine and a speaker at various industry events such as AdAge. However, her biggest thrill is taking an agency on a creative adventure, inspiring them to produce work they didn't think themselves capable of.

Debby de Ridder Chief Editor, Happiness, Brussels

Debby De Ridder, born (1980) and raised in Belgium, has 20 years advertising experience.

Lives together with her partner Jorrit and their two kids, Sam (13) & Jerom (9).

Started her working life on the client side. But realised after a few years that her love for advertising was unstoppable after all. Worked as a copywriter for Duval Guillaume and then freelanced for five years, for just about every agency in Belgium.

After a short breakfast bar adventure (the hardest job she ever did), she decided that advertising in general and copy and content in particular were really her thing.

Worked for six years at BBDO Belgium as Head of Copy, where she got ranked fourth top copywriter of the year at Cannes 2022 and won more than 50 awards for her contribution to the Decathlon Breakaway project (among them two Eurobest GPs, two Cannes GPs and a Caples Gold).

Moved to Happiness Brussels in March 2023 to work with her partner in crime and in life as Chief Editors. Together, they (help) create content that people are actually care about.

Debby Is a sunshine child who loves great stories, good coffee and authenticity.

Stephen de Wolf ('Wolfie') National Chief Creative Officer. DDB Group Australia

Stephen de Wolf's 20+ year career has taken him around the globe to some of the world's top creative agencies: starting in Perth, moving to Melbourne, on to New Zealand and London and now bringing him to Sydney. He became DDB Australia's National Chief Creative Officer in October 2021, joining from BBH London, where he was the Chief Creative Officer.

Stephen's work has been recognized at all major award shows around the world for both creativity and effectiveness.

His accolades list into the hundreds and include multiple Grand Prix at Cannes and Spikes, multiple Best in Category at The One Show, Multiple Grand Prize and Best in Show at New York Festivals, and multiple D&AD pencils including a coveted Black Pencil.

Stephen has been named the world's top creative director on several occasions.

In 2017 Stephen guided Clemenger BBDO Melbourne to its coveted position as Agency of the Year at Cannes Lions and D&AD Agency of the Year – the first time any Australian agency has received that honour.

Some of Stephen's work highlights include 'Meet Graham' for the Transport Accident Commission – one of the most awarded campaigns in the world, 'The Hungerithm' for Snickers, 'Until we all belong' – The Acceptance Ring for Airbnb and 'The Give Registry for Myer' (Australia's Largest Department Store) to name a few.

He has judged and chaired both local and international award shows, including Cannes and D&AD. And, finally, The Caples.

Alejandro di Trolio Executive Creative Director, Cheil Spain

Alejandro is the multi-awarded ECD of Cheil Spain and European Creative Chairman of Cheil Network. For more than 18 years, he has been working in Latin America and Europe. Over these years he has led multidisciplinary creative teams to find new and disruptive ways to connect with audiences.

Alejandro has extensive experience in independent and global network agencies, such as Leo Burnett, BBDO, MIG, Nucorpa, Territorio Creativo. Before Cheil, he was ECD in Good Rebels, leading global creative teams in five cities (London, Madrid, Mexico, Colombia, and Barcelona), developing projects utilising creative data, social media and branded content.

During his career, he has worked with brands including Samsung, IKEA, Coca-Cola, Toyota, Amazon, Volkswagen, Domino´s Pizza and Red Bull, generating creative strategies and brand positioning in diverse markets.

He had served as a Jury member for Cannes Lions in 2020, 2021 and 2022, The One Show, Eurobest, LIA, El Sol Festival, CdeC, El Ojo de Iberoamérica, ADCE, Immortal Awards (LBB) and FIAP among others. He has won more than 70 internationals awards at Cannes Lions, Clio, Effie Awards, The One Show, Caples Awards, Lia Awards, CdeC, El Sol Festival, FIAP, Lovie Awards, IAB Inspirational and Ojo de Iberoamérica.

In 2020/2021, under his leadership, Cheil Spain was ranked #2 for creativity at Cannes Lions for the number of awards won at the festival.

Frances Draskau Creative Director, The&Partnership, London

Frances Draskau has worked as a writer, photographer, filmmaker and producer for 17 years. Her photography has been published in Vogue and National Geographic and her films have garnered critical acclaim from Aesthetica Film Festival, London Music Video Festival and BAFTA Guru.

Commercially, she's written for Adidas, Samsung, Puma and Heineken, directed digital spots for Dove, Facebook, Diageo, L'Oréal and Sony, experiential and brand partnerships for Samsung, Hyundai, Kia and Mazda, and produced campaigns for Guinness, P&G, Toyota and Skoda, winning numerous awards along the way.

She helped build and lead the global Opel account, and local market activations on Reckitt Benckiser and Mastercard at McCann Germany and currently leads global creative on FMCG and Automotive clients at The&Partnership Worldwide in London.

Erica Fite Co-Founder/Co-Chief Creative Officer, Fancy, New York

Erica's life has taken her to both coasts and both sides of the camera: as an actor and as a creative director, culminating in her role as a Founding Partner and Co-CCO of advertising agency Fancy, LLC. 100% women owned, strategically minded, creatively driven, Fancy is dedicated to elevating what's important to women, including smashing stigmas and breaking down taboos that have kept normal parts of women's everyday life surrounded by secrecy and shadows.

Erica's smart, honest and cheeky style has been recognised in the industry. She is one of Adweek's Creative 100 among other honours. Lauded creative campaigns for Lion's Den, pH-D Feminine Health, Procter & Gamble, Henkel, and more, all bear the Fancy hallmark: fun, raw, and thoughtful work delivered with a wink.

Prior to founding Fancy, Erica was the only female Global Executive Creative Director in the Lowe & Partners network. Her career also included stints at McCann, Grey, Della Femina, and the in-house creative department of Clinique, where she created memorable campaigns for Milk, L'Oréal, Coty, Pantene and others.

Erica received a BA in English from UCLA, where she read enough books to decide to make a career out of visual work. She gets her inspiration from museums and galleries in NYC and clears her head by hiking, biking and x-country skiing miles and miles through the Mohonk Preserve. She loves hanging out with her husband and their many kids and sometimes they do, too.

Malek Ghorayeb Chief Creative Officer, Publicis Communication Levant + Qatar + P&G Global Hub.

Malek, has 35 years of communications experience, including more than 30 years with Leo Burnett. He is the creative head for both Publicis Communication and Procter and Gamble's Global Hub in the Levant region, including Qatar.
He is known as someone who, with his teams, puts his best efforts into giving a human and insightful voice to advertising across MENA, while pushing the limits of creative excellence.

As a result, Leo Burnett Beirut has consistently been Lebanon's most-awarded agency and in 2013 was the first Lebanese agency to be listed among the world's Top 10 agencies in the creative rankings, coming in at number Five in 2016.

Malek has a very strong understanding of his target audiences due to his extensive knowledge of FMCG as well as the Telecoms, Auto, Food and Banking sectors.

He has launched most of the big Telco names in the region, brands like Saudi Telecom or du. Across MENA, he has also handled brands including General Motors , Emirates and Mc Donald's.

Throughout his career, Malek has received prestigious awards and recognition from Cannes Lions, Dubai Lynx, Epica, Cresta, One Show, Clio, D&AD, LIA, Adfest, Golden Drum, New York Festival, European Cristal and The Loeries awards …mostly for integrated campaigns that engaged large audiences and helped change the way people think and feel.

According to the Big Won Report he was ranked the most awarded Executive Creative Director in the world for the year 2015.

Nancy Harhut Chief Creative Officer, HBT Marketing

Getting people to take action is what Nancy's all about. Her specialty is blending best-of-breed creative with decision science to prompt response. A frequent speaker at industry conferences, Nancy's shared her passion with audiences in London, Sydney, Moscow, Madrid, Stockholm, Sao Paulo, Berlin, and all over the US, including SXSW. Along the way, she's been named Online Marketing Institute Top 40 Digital Strategist, Ad Club Top 100 Creative Influencer, and Social Top 50 Email Marketing Leader. Prior to cofounding HBT Marketing, Nancy held senior creative management positions with Hill Holliday, Mullen, and Digitas. She and her teams have won over 200 awards for digital and direct marketing effectiveness, including numerous Caples awards. Check out her new book, Using Behavioral Science in Marketing, recently published by Kogan Page.

Wez Hawes Executive Creative Director, Innocean Australia

Although highly awarded, Wesley is best known for establishing thriving creative cultures everywhere he goes.

As ECD of Innocean, Wesley leads the Hyundai and Kia brands, as well as No Ugly wellness tonics, Tourism Korea, AMCS (Australian Marine Conservation Society), and F*ck The Cupcakes, the gender equality initiative created by Innocean Australia and CEO Jasmin Bedir, that's gaining huge momentum in the communications industry and beyond.

Previously, Wez was ECD of CHE Proximity Sydney, Marcel and TBWA Sydney. But it's at BBH London where Wez spent most of his career leading the global Lynx/Axe account.

Wesley's work is eclectic due to his diverse agency experience. For that reason he's won Cannes Lions across every main category - except Pharma, but he's working on that.

Sue Higgs Creative Director, Dentsu Creative London

Sue Higgs is executive creative director of Dentsu Creative London, an impassioned anti-bullying advocate and equality campaigner. She is an in-demand speaker and international juror, including at Campaign BIG, Cannes Lions, D&AD, Clios and Creative Futures.

With a career spanning 30 years at agencies including Grey, Publicis, O&M and M&C Saatchi, Higgs is known for her culturally-relevant and purpose-driven work on some of the world's biggest and best-loved brands. As Group Creative Director of Grey London for the last four years, she put Captain Birdseye back on the map with a much-needed makeover, launched Nokia's Bond campaign for 'No Time To Die' and created a fundraising campaign for M&S using real breast cancer survivors to fund life-saving research. Driven to support diversity and equality throughout her career, at Grey she created a striking campaign for Gay Times' charity Amplifund, while her Ogilvy film for Kick It Out, highlighted the unacceptable homophobic language prevalent in football and made front page news.

Speaking out against workplace bullying, she recently shared her experience on LinkedIn and in Campaign, prompting a huge response and pushing the topic up the industry's agenda. She is also a SheSays Momma mentor, part of the Uninvisibilty Project and board director of the Circle Collective, a social enterprise that helps young people to work.

Jana Jarosz VP Creative Director, FCB Health New York

Jana Jarosz is a versatile creative thinker and designer with two decades of experience in ad agencies, content and production houses in Los Angeles and New York. An Effie award-winning art director, she has created work across a wide brand landscape. She began her career in general and consumer marketing, designing content for clients from Absolut to L'Oréal.

Her current creative role in The Bank at FCB Health New York is grounded in developing a wide range of ideas and initiatives in the healthcare space from oncology to diabetes. As a graduate of Art Center College of Design, Jana firmly believes in using design as a force for good, believing that creativity can drive change – one idea and one project at a time.

Before and after advertising hours, Jana spends her time running miles all over the streets of NYC, helping students at Manhattan's only full-time night high school, and mentoring creative technologists at the New Museum's tech incubator, New Inc.

Kristal Knight Executive Creative Director, Ogilvy New Zealand

Kristal Knight has spent over 20 years in the creative business, divided between London and New Zealand. Having worked at several agencies known for innovative approaches to advertising, she has a truly integrated creative brain and has won international awards across brand, digital and direct. Although she feels most inspired sitting at the point where all three collide. She has a real passion for work that creates real impact and changes the way people behave.

She has worked on some of the world's biggest brands, such as American Express, IBM, and Toyota, while also creating award-winning work for some of her favourite causes including the New Zealand Breast Cancer Foundation and Global Women.

Her work has been recognised at Cannes, D&AD, One Show, Spikes, LIA and more, most recently winning the Grand Axis for 'A Career-Limiting Campaign' for Global Women. She has also served as a juror for Cannes, LIA, Spikes and Axis.

She is also passionate about working towards an even playing field for everyone in the creative industry, and is heavily involved with the Women's Work collective - helping NZ's female photographers get the exposure and opportunities they deserve.

Chris Kyme Co-Founder and Creative Director, Kymechow Hong Kong

Chris started as a copywriter with FCB London in the early 1980s. True to popular advertising legend, his career actually began in the mailroom. It developed with work on brands such as British Airways, Daily Mail, Cadburys and Kraft Foods among others.

He was then offered the chance to work in Hong Kong with Leo Burnett. He went on to become Creative Director and Regional Creative Director at both Grey and FCB in Hong Kong, Singapore and other Asian markets.

In 2010 he set up his own creative services agency, Kymechow in which he is still active today.

Chris has been involved as a speaker, MC and juror at various shows during his career, including Hong Kong Kam Fan awards, Singapore CCA, Adfest Asia, Cannes Lions and New York Festivals.

He has also published a book about the history of Hong Kong creative advertising called 'Made in Hong Kong', which was on the top 20 list of most popular titles during its first year of publication at Eslite Books in Hong Kong.

He also contributes a monthly column on the Hong Kong creative scene for Campaign Brief Asia magazine and is actively involved in the Asian advertising scene.

Kestrel Lee Integrated Solutions Creative Lead, DentsuChina

With over 20 years of advertising experience, Kestrel Lee is a Creative and Technological leader in new digital, experiential and content sectors in retail, social media, e-commerce, integrated and digital marketing.

Starting out as a copywriter in Singapore, he made his mark at digital-led integrated agencies such as Arc Worldwide/Leo Burnett, FCBi, TBWA/Tequila, Sapient and ZENO/Edelman for clients such as Mars, Unilever, L'Oreal, HP, Apple, Microsoft, adidas, Volvo and Air New Zealand.

Winning almost 100 digital and integrated awards at award shows such as One Show and Spikes Asia, Kestrel is an influential industry speaker at digital conferences in Asia Pacific, as well as being a digital advisor/trainer to brands like Unilever, LVMH and L'Oreal Paris in China and Asia.

Recognized by Campaign Asia Pacific as a Digital A-lister for e-commerce, he is also a sought-after consultant for emerging media, new technology, metaverse and gaming engagement, online-to-offline retail, social media and e-commerce transformation. He has also been a key masterclass trainer for digital innovation with Marketing-Interactive.

Jonas Lembke Maker and Partner, The Innovation Chapel, Stockholm & Sydney

Jonas Lembke is a seasoned and awarded creative with 30+ years in the industry across several markets and networks. An early adopter and pioneer in the digital marketing field, he continues to facilitate the meeting of people and technology for the good of humanity.

Franco Luca Country Manager, RAPP Argentina

More than 17 years of experience in the Advertising Industry. Specialises in the Digital Communication Business.

Now leading RAPP Argentina, the Omnicom Group agency, with a team deliberately diversified with experts in creative, data, strategy and tech, working together across capabilities to understand clients' needs, delivering creative solutions for their business problems.

He also leads Team × LATAM, the Omnicom Group agency for Mercedes-Benz.

Franco is currently a Board Member of Interact Argentina, the Association that brings together agencies, consultants and production houses of the digital ecosystem.

Previously, in 2018 he founded and led Digitas Argentina, the digital agency of Publicis Groupe. He was also Chief Content Officer for Publicis Groupe Argentina, supporting all the agency brands in the country. For two years he led LiquidThread, the creative SBU of Publicis Media.

For five years he was the Digital Director in Human agency engaged in local, regional, and global projects of social media, digital platforms, apps, and sites for brands such as Coca-Cola, Moët Hennessy, Mondelez, AXION energy, Puma, Nivea, Honda, Molinos Río de la Plata, Procter & Gamble, Motorola and Danone.

Before that, he was at Vulgaria. And before that, he started his career at Wunderman in 2006.

Over the years, he has worked on projects that have won awards at Cannes Lions, Effie, Diente, Lápiz de Oro, Ojo de Iberoamérica, El Sol, +Digital, ECHO and Wave.

Marie Claire Maalouf Creative Director, Impact BBDO UAE

"Mommy. Creative Leader. Kinesiologist. Speaker".

Marie-Claire holds many titles, but the one she believes truly defines her is 'a Student of Life'.

Two weeks after graduating with honours from the Lebanese Academy of Fine Arts, Marie-Claire, being top of her class, was approached by BBDO for an Art Director position. Her drive and contribution to growing the business and the teams made her a key player in the agency. She currently holds the title of Executive Creative Director.

As ECD, MC, as called by her colleagues, has contributed substantially in bringing home to the MENA region the most coveted awards of the industry. In 2022, she helped win more than 85 awards, amongst which the only D&AD Yellow Pencil won by MENA this year, one of the two Cannes Lions Grand Prix won by the MENA region, 2 Gold Awards at the Caples as well as the only Grand Lia in Health for MENA.

MC worked on many initiatives that helped make a difference and Pro Bono projects that had effective results, including the "Mutilated Words Campaign" that raises awareness around the dangers of female genital mutilation, the "Toxic Flag", that helped stop the project of building incinerators in the middle of the capital Beirut.

The latest projects she has worked on are: "Despair No More", which is the Arabic for "Menopause", a campaign that worked towards erasing that phrase forever from the Arabic Language; The "Social Distancing Prayer Mat", for Dettol, allowing Muslim worshippers in Pakistan to pray safely during the spread of Covid-19; and "The Elections Edition" for newspaper Annahar, an edition that never went to print so that the Lebanese elections could use its ink and paper and thus happen on time.

Her work has been recognized at The One Show, Caples, Clio Awards, LIA Awards, Dubai Lynx, D&AD, Loeries, MAdStars, Epica, Immortals, Global Cristal Festival, MENA Cristal, The Andys, Effies and Cannes Lions.

Marie-Claire has been a juror at Cannes Lions, New York Festival, Global Awards, D&AD, The One Show, LisbonAdFestival and Mena Cristals.

Her penchant for injecting positivity into life has led to a certification in professional kinesiology practice by ICPKP New Zealand and Kinesiocoach Dubai.

She has also done energy studies through the Pranic Healing system. She uses her learning to spread a positive culture at work, among the people she works with and through her public speaking.

Tara McKenty Chief Creative Officer, Google APAC

At age four, Tara's kindergarten teacher told her mother that Tara would grow up to be the Prime Minister of New Zealand, or the devil itself.

After casting a career in politics aside, and realising red wasn't her colour, Tara found herself in the halls of Whybin\TBWA Auckland working in advertising. It was here that she and her creative partner gained international attention by floating shares in their creative future, successfully funding themselves to Cannes.

During her time at TBWA, Tara had a complete disregard for discipline and convention, she was named in Campaign Magazines Top 50 emerging talent portfolio, and submitted several entries into the pantheon of ABSOLUT work, one of which was the creation of a limited edition ABSOLUT bottle design.

Then Tara decided to swim across the ditch to Sydney where she joined Saatchi & Saatchi. It was here that Tara created a children's book for OPSM that tested the eye- sight of children, which was named by the WARC 100 in 2016 as the most effective marketing campaign in the world.

Tara now finds herself at Google where she leads a team who role it is to ignite brand love and trust for the Google brand through creativity. In previous roles at Google Tara has worked and supported some of Asia Pacific's largest clients, to use Google's products and platforms in creative and innovative ways.

Tara's most proudest achievement to date is founding Rare with Google, an initiative that provides equitable opportunities for underrepresented creatives to thrive at every stage of their career.

Tara continues to disrupt the status quo, and as a consequence has won over two hundred awards (inclucding D&AD pencils, Cannes lions, Grand Prix's, and Best in Shows) during her advertising rebellion.

Ben Mooge CCO of Publicis Groupe UK

Ben Mooge started his career at the then start-up agency Mother. While there he won multiple awards for his work with QTV, Unilever, ITV and Orange. He left the Campaign Agency of the Decade after a decade, having joined as a junior writer/runner/teaboy.

He became Co-Founder and Creative Partner of Work Club, working with Heineken, Sharp and Pernod Ricard. Work Club was Digital Agency of the Year in 2011 and 2012 and was acquired by the Havas network in 2014.

For four years he was Executive Creative Director of Havas London, winning awards for his work with Carling, Reckitt Benckiser, Heathrow Airport and the Department for Education.

In August 2019 he was appointed as the first Chief Creative Officer for Publicis Groupe UK. He oversees the creative output of the Groupe's agencies, Saatchi & Saatchi, Leo Burnett, Publicis.Poke, Digitas, Zenith, Starcom, Sapient, Langland and MSL, for clients including six of the UK's top 10 advertisers.

Ben's mission is to supercharge creativity and craft across the business, with the focus on creating work that transforms clients' fortunes. He has created new ways for the agencies' ECDs to collaborate, made strategic senior creative hires and has helped to drive new business wins including Samsung, Disney and Puma.

In 2022 he was President of The Caples Awards jury.

Ben is an expert on Little Mix and Playstation FIFA according to Mia and Leo Mooge, in that specific order.

Mukund Olety Chief Creative Officer. VMLY&R India

Mukund Olety is probably the only senior creative in the world with extensive India, China and South-East Asia experience. With a career spanning nearly two decades, he has worked in some of the world's biggest and most diverse markets.

Currently, Mukund Olety is the Chief Creative Officer of the VMLY&R Network (VMLY&R, VMLY&R Commerce, GTB and The Glitch) in India. He leads a team of over 200 creatives across 3 offices.

Mukund is excited by all things new – technology, culture, things, ideas and believes diversity breeds creativity. In his current role, he is responsible for the overall creative direction and reputation of the agency. He is tasked to provide both creative leadership and strategic guidance on creative to major clients while mentoring and nurturing talent across the agency. He leads pitches and key agency relationships with clients, peers, media and industry partners.

In the last one year, he managed to put VMLY&R, India on the global map. He took the agency from zero Cannes Lions to a Grand Prix and multiple Lions, all in one year. Under his leadership, VMLY&R India was placed No.3 on the Cannes Lions APAC Ranking, for the first time ever.

Prior to joining VMLY&R, he was with BBDO China leading the creative teams on Mars Wrigley, Visa and Volkswagen. He has also worked with Leo Burnett in Malaysia and Ogilvy in India.

Never the one to lie low, Mukund has worked on a host of envy-inducing brands: Dell, Colgate, Unilever, IDFC First Bank, Volkswagen, Mars Wrigley, Mercedes, McDonald's, Carlsberg, Samsung, Durex, Unilever, Nike and Coke. His work on these brands have won him over a hundred awards globally.

To give back to the industry, he has served on jury panels and partnered with various local and international organizations to mentor young creatives.

Clara Prior-Knock Creative Director Uncle Grey

Clara is Creative Director at Uncle Grey (part of Grey Group) in Denmark. But she started her career on the other side of the Atlantic going to school in San Francisco and ending up in New York. After a while in the big city, Clara moved back to her native Copenhagen, Denmark, where she has worked in agencies like DDB, Hjaltelin Stahl/Accenture Song, and Uncle Grey. At all these agencies she has won everything from effective Effies to French Lions for clients such as McDonald's, IKEA, and Canon.

Besides work, Clara has done her jury-duty at many award shows – and is on the board of directors and jury president at the biggest advertising and design award in Scandinavia, Creative Circle.

Clara has also co-founded a platform for female creatives in advertising and the first education for copywriters in Denmark. Her mum says she works too much, but luckily, she is having fun doing it.

Mariana Sá Chief Creative Officer, W/McCann São Paulo

With over 25 years of experience, Mariana's last professional challenge before joining W/McCann was as Creative Director at Globo, where she stayed for 8 years, being responsible for projects such as the 2014 World Cup, Rio 2016 Olympics, celebration of the broadcaster's 50th anniversary, Globo.com, Globoplay and, recently, for rebranding the group after the unification of all its sub-brands.

Mariana started her career at Propeg in Salvador, North-Eastern Brazil. When she came to São Paulo, she worked for 10 years at DM9DDB as Art and Creative Director and spent two years at Lew'Lara/TBWA as Executive Creative Director, serving brands such as Ambev, Itaú, Nissan, J&J, Natura, Banco do Brasil, PepsiCo, JBS, Adidas, C&A and Vale.

Mariana Sá has won awards in Cannes, Clio, One Show, Professionals of the Year, CCSP, and has also been invited to join the jury of important festivals such as Cannes, One Show, Dubai Lynx, Clio, D&AD, Ciclope, among others. And now The Caples Awards.

In 2021, Mariana won the Caboré Award as Creative Professional of the Year.

Meera Sharath Chandra CEO and Chief Creative Officer, Tigress Tigress

Meera is the founder, Chief Executive Officer & Chief Creative Officer of Tigress Tigress, a digital-led integrated communication agency with operations in India and the UK.

With 35 years of global experience, she is a consistent international award winner and has been on the cyber juries of Cannes Lions, One Show, Clio, Art Directors Club, D&AD and New York Fest multiple times. This is her second appearance as a judge at The Caples.

Meera has worked across the US, the UK, Hong Kong and India. She has been on the global task forces of Ford, Unilever, Citibank and Nestle. She has been the Executive Creative Director for Momentum Worldwide UK, the Managing Director of Syzygy UK, President & National Creative Director of RMG Connect (JWT), spending a decade at JWT across different geographies, and National Creative Director across five DDB units in India.

A keynote speaker at international conclaves like the World Health Organization in Geneva, the Latin American Advertising Festival and Eurobest, she is also a pro bono contributor towards the WWF "Save The Tiger" initiative.

She is a mentor at the School of Communication Arts, London.

Paul Shearer Chief Creative Officer, WPP Global Clients

Paul joined Wunderman Thompson as Creative Officer/Global Clients in October 2021 to bolster Wunderman Thompson's creative momentum and drive inspiration across the network's roster of global clients. He sits on the network's Inspiration Council which aims to drive creative excellence across the network.

Prior to joining Wunderman Thompson, Shearer served as CCO and Creative Council chairman of BBDO across the EMEA region. A Scottish native, Shearer is best known for his work on Nike, working with sports celebrities at various agencies.

He has previously worked for Bartle Bogle Hegarty London, Wieden + Kennedy Amsterdam, Ogilvy and was a founding partner at the global agency Nitro, having led global clients such as Nike, Coke, Masterfoods and Volvo.

These experiences have involved him in work that has won more than 70 Cannes Lions, including the Middle East's first ever Grand Prix, as well as more than 40 D&AD pencils and a plethora of One Show pencils and Clio trophies.

His work for Nike is displayed in the Victoria & Albert Museum in London and topped the music charts in more than 250 countries in the world.

Based in London, Paul believes in always bringing a different point of view to everything he does. His understanding of the global environment is something he has always thrived on. He is a passionate believer in inspiration over creativity as it leads to transformational ideas. He takes innovation and data very seriously and embraces all that is new in the world of technology.

Juan Silva Chief Creative Officer, Accenture Song Iberia

Juan boasts over 25 years of professional experience. His career began in 1996 at the agency Contrapunto BBDO. When he departed the agency in 2004, he held the position of executive creative director. In 2005 he joined JWT Madrid to lead the agency's creative business. In 2007, Juan joined Shackleton Madrid as partner and executive creative director. Over the course of his career his work has repeatedly been recognised at all the major national and international awards shows, such as Cannes Lions, D&AD, The One Show, Clio, cdec, El Sol. He has also been part of the Board of cdec and has been a jury member at Cannes, El Sol, cdec, Eurobest and The eye of Iberoamerica among others.

Juan is passionate about sports and cinema, he has directed three short films, and one of them, "Basura" has won more than 70 national and international awards.

Raymund Sison Partner & Chief Creative Officer, Propel Manila

After spending 12 stellar years at top network agencies like DDB, Grey, BBDO and Publicis, Raymund's drive for innovation and new ways to tell stories led him to independent agency Propel Manila. A young underdog digital indie, he helped transform it to become one of the Philippines' hottest agencies today.

Under his creative leadership, Propel has been named 2022 Agency of the Year by multiple award shows – Philippine 4As, Campaign Global, Campaign Asia, IMMAP Boomerang – including Tech Innovator of the Year two years in a row. He has helped build a culture hailed as 2021 Southeast Asia's Best by Campaign Asia.

Through the years, he's picked up recognitions from Cannes Lions, Clio, London International Awards, Caples, New York Festivals, Ad Stars, Spikes Asia, including multiple Grand Prix trophies from local award shows. This year, he was nominated for Southeast Asia Creative Person of the Year.

He is madly in love with creativity, and his work has been deeply influenced by his major interests in culture, art, psychology, literature, technology and pure interest in humanity.

Juan Pablo Valencia Regional Creative Adviser, FCB Artgroup (TICCA Region – Turkey, Iran, Caucasus & Central Asia)

Juan Pablo Valencia is originally from Chile, with Art Direction, Copywriting and Strategic skills.

He has been working approximately 20 years for brands like Procter & Gamble, Nestlé, Mars, Samsung, Unilever, Pepsico, Beeline and many others as an Art Director, Creative Group Head, Creative Director, Executive Creative Director and now Regional Creative Director & Advisor.

He has been in Chile (BBDO and other agencies), Russia (BBDO and Contrapunto) and in the Central Asia and Caucasus region (TBWA, CHEIL and FCB).

He has earned more than 200 awards and honours at different international festivals such as

Clio Healthcare, Epica Awards, Golden Drum, AD Stars, PIAF, Red Apple, Golden Hammer, KIAF, AD Black Sea, Creativity Awards, White Square, IDEA, Popok, ADCR, Best of Central Asia & Caucasus and National Diploma at Cannes Lions, becoming the most awarded Creative Director in the region.

His works has been published in numerous advertising magazines and books like Lürzer's Archive, Communication Arts, Epica Book, Epica Brand Tribute (Samsung), Creativity Annual Awards and many others.

He is currently ranked #11 as Copywriter and #30 Art Director in the world over the last 10 years by the prestigious magazine Lürzer's Archive.

In 2018 he reached the top #1 in the world from BESTADSONTV.com as a Creative (Copywriter/Art Director).

He has judged at some 50 local, regional and international advertising festivals like:

D&AD New Blood, The One Show, CLIO Awards, LIA Awards, New York Festivals, AD Stars, Cresta Awards, Golden Drum, The Caples, Lisbon, Creativity Awards, The Bowery Awards, SeeHer, WINA, Mobius Awards, SIA, PHNX Tribute, Luum Awards, Care Awards, White Square, KIAF, Young Lions, Popok, One Eyeland Photography Awards, and others from Central Asia region.

Mike Watson Creative Director. Wunderman Thompson, London

Mike Watson is Creative Director at Wunderman Thompson. He is a Zimbabwean-born, South African-raised Londoner with a passion for creative ideas that affect the rickety relationship between brands and people.

He started his career in South Africa working on McDonald's, Heineken, Johnson & Johnson, Ford, DHL, and because he was born on a farm… John Deere.

Since moving to London in 2002 Mike has helped launch the Range Rover Evoque, the Xbox One, and the Levi's Commuter range of clothing online. He was put in charge of both Peroni and Heineken's social feeds (#lols ensued). He helped sell a record number of Adidas football boots through an app without any celebrity endorsement. Helped Shell win a White D&AD pencil. And most recently helped prove to the UK that 'We Are Not an Island' for HSBC – their most creatively awarded campaign to date.

Armed with an eclectic background that includes working in different countries, on film sets, in both digital and traditional advertising agencies, Mike spends most of his time clearing the way for his teams to deliver the best ideas they can

Jonathan Wolberg Creative Director, FCB Joburg

Jonathan knew he wasn't going to make it big as a mathematician or scientist, so he studied Graphic Design before landing his first job as an art director in 2004.

Jono has a passion for solving business problems with creative thinking and is obsessed with crafting communication that is memorable and impactful.

He is currently a Creative Director at FCB Joburg and has been involved in numerous campaigns that have been recognised at award shows both locally and internationally, including Cannes, One Show, Clio's, Gerety, Loeries, Bookmarks and Pendoring Awards.

Andy Wyeth Executive Creative Director, serviceplan, Cologne

Andy is a Kenyan born, Kiwi raised, German based creative. The work he's done has made him one of the most highly awarded creatives in the country with his name on Golden Lions, One Show Pencils and the coveted D&AD Yellow Pencil. He's also won multiple Grands Prix from the Effies to

Eurobest. The UK's Drum Magazine ranked Andy as the ninth most awarded ECD globally in 2021. He's now a proud member of the serviceplan Group and leads the creative team out of the Cologne office.

Andy's married and has two amazing kids and a rescued scruffy Spanish street dog at home to cuddle. After work, Andy has a passion for creating art, photography, playing guitar and writing in third person.

Tom Young Creative Director, MullenLowe Dubai

Hi, I'm Tom.

After spending most of my career in London, I decided on a move to Dubai around five years ago and never looked back.

I've worked mostly as a copywriter but have a strong eye for craft and like to be involved across all aspects of execution. I've worked in every ad medium conceivable from TV, PR, events, print, digital outdoor, radio, online content, emails and even, dare I say it, web banners.

With experience above and below the line, at agencies such as WCRS, VCCP and BBDO and currently FP7/McCann, I've continued to sharpen my cerebral pencil working with clients both big and small. From F1, Golfing and Olympic champions, to winnning business with elite luxury brands like Corinthia and Rolls Royce, to the no-nonsense ones like William Lawson and flyadeal. I've even dabbled in music video direction with platinum artist Charlie XCX and over the years, I've learned a truckload about how to make a good idea great.