The Caples Awards 2021
Jury President
Steve Aldridge
UK Chief Creative Officer, Wunderman Thompson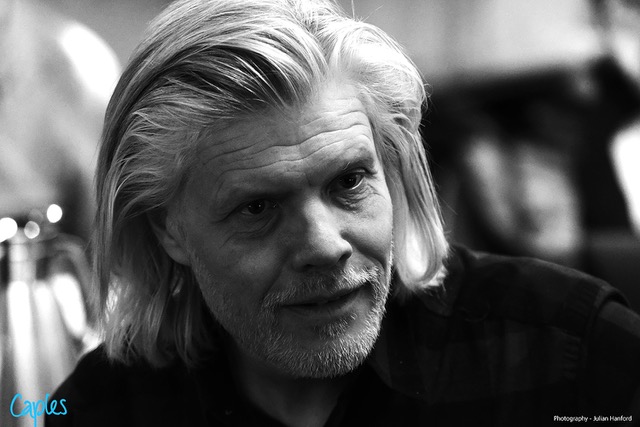 Steve is known for being a creative champion, a successful business founder and an effective network leader. His mantra "None of us are as creative as all of us", ensures everyone contributes and their opinions count. His approach is to nurture inclusivity and collaboration, building teams that want to work together.
Since joining Wunderman Thompson as Chief Creative Officer in early 2019, the agency's creative output has gone from strength to strength. Working with the likes of HSBC, BT, Macallan, KitKat and Microsoft, Wunderman Thompson has produced inspiring, effective and culturally engaging work across the entire customer journey. Under Steve's leadership the agency has produced a record number of award wins at all major shows including Gold at Cannes Lions, Gold at Caples 2020, one of the UK's nine D&AD Yellow Pencils and metal at Creative Circle, Eurobest, Lovies, Marketing Week Masters and Fab, to name a few.
Prior to Wunderman Thompson, Steve co-founded creative agency Partners Andrews Aldridge, which won over 200 awards including Agency of the Decade. Partners Andrews Aldridge became part of the Engine Group in 2008, where Steve held the title of Group ECD.
Steve was a juror at The Caples Awards 2019.
Adam Bodfish
Executive Creative Director, McCann Birmingham

They say, the creative adult is the child who survived.. sadly, my hairline didn't.

But my appetite for creativity has grown stronger by the day.

This hunger for originality, innovation, and building brands has enabled me to work with some of the best brands and agencies in the world – present company included.

I have successfully developed and implemented fully integrated and results-driven work for clients including Samsung, Nespresso, Diageo, HSBC, WWF, McDonalds, Alpro, RAC, Kenco, Nestlé, and Whirlpool to name a few. And my work has picked up international awards at the usual suspects.

When I'm not fighting for good ideas in the creative department, you'll find me honing my fighting skills in Brazilian Jiu-Jitsu. I'm also a fan of surfing, movie scores, writing poetry, writing scripts, and not writing bios.

Ali Rez
Regional Executive Creative Director (MENA/Pakistan), Impact BBDO

Ranked amongst the Top 20 ECDs in the world and the No.1 ECD in MENA/APAC on the 2020 World Creative Rankings and named the South Asia Creative of the Year 2020 by Campaign magazine, Ali Rez is one of the most successful award-winning creative leaders in the world.

He has won more than 500 international accolades in his career spanning USA, the Middle East, Asia and Africa, at everything from Cannes Lions, Clios, D&AD, Effie, One Show, Loeries, Caples, to Dubai Lynx, Spikes and many more.

Ali's work has been instrumental in Impact BBDO being ranked amongst the Top 5 most creative agencies in the world in 2020 and has brought tremendous business success to the global and regional brands he looks after.

He has been on the jury at almost every major award show and is a member of the BBDO Asia Creative Council.

Besides lecturing at Oxford University and St.Martin's College, he has exhibited at Tate UK, spoken at Tedx, captained a cricket county team in California, and - being a firm believer that curiosity leads to creativity - has travelled to 131 countries.

Becky McOwen-Banks
Executive Creative Director, VaynerMedia London

As Executive Creative Director Becky leads the VaynerMedia creative team in London and across Europe. Working across the client base she maintains a strong vision to create award-winning work that works. She is a passionate believer in the power of creativity to make a difference to businesses.

Committed to making the industry as inclusive and effective as possible she has worked tirelessly on many diversity initiatives including partnering the founding of Creative Equals, mentoring and speaking for SheSays, piloting The Girlhood and becoming the first female creative director on the IPA council in its 100yrs. She keep the need for greater diversity in the search for better creative work, front and centre.

She has been a speaker at Cannes Lions 2018, TEDx, IPA, EffWeek, AdWeek, IPA (Scotland), GroupThink, The Ivy Club and many, many, more. She is also on a podcast or two, as well as masterclasses for D&AD and the IPA to mention a couple. Becky is published in the book: Eat Your Greens.

Her curiosity and ambition continue as a scholarship-winning MBA student at Berlin School of Creative Leadership.

Ben Kay

Ben has written some award-winning ads, but also fifteen years of advertising blog posts, a novel about killer wasps, a monthly column for Creative Review, thousands of tweets and the occasional one-sentence autobiography.

Ben Polkinghorne
Creative Director, AMV BBDO

Ben Polkinghorne is over 30 years old.

It wasn't always this way. But, before it was, he was on the Forbes '30 under 30' Europe list. He also featured on the Business Insider's '30 under 30 most creative people in advertising' list twice.

Since turning the big 3-0, the enthusiastic Kiwi immigrant has settled at AMV BBDO with partner Scott Kelly. Recent notable work includes 'addresspollution.org'. This featured on the front page of The Times, the UK's leading broadsheet, went on to change the law and win a D&AD Yellow Pencil. Previously, the pair were at W+K London and Colenso BBDO. Over their eight-year career, the duo have won four Gold Lions and another Yellow Pencil for 'Trial by Timeline'.

Outside of advertising, the duo are emerging artists. They've exhibited at the Seoul Museum of Art in the U.K. and been commissioned by one of New Zealand's major parks. They've been interviewed by the likes of Fast Company and the BBC, while everyone from Adrienne Huffington to Vice has shared their art.

Beto Nahmad
Executive Creative Director, VCCP Spain

Beto Nahmad was born in Buenos Aires, Argentina. He is a Media Technician and studied Film and Advertising. He began his career at Agulla & Baccetti before moving to Barcelona to work at important agencies as Publicis Casadevall Pedren~o, Tandem DDB and JWT,Delvico. After eight years he moved to Madrid to Draft FCB as Executive Creative Director and Director of Innovation. Today he leads the Spanish office of one of the UK's top agencies: VCCP. After launch, VCCP Spain reached break-even in just one year.

After five years, VCCP Spain has become one of the most awarded Spanish agencies at FIAP, El Sol, CdeC and Cannes Lions.

Beto also writes and direct short films as Bon Appetit.

Cordell Burke
Creative Managing Partner, UP There Everywhere UK.

Cords is an experienced Creative Director/Art Director who has led integrated creative departments at agencies such as OgilvyOne, Tequila (TBWA group) and Saatchi & Saatchi.

For many years, this experience has included producing TV, press, posters, Direct Marketing and digital creative work for clients such as IBM, Cisco, SAP, American Express, BT, Royal Mail, BP, Prudential, The Army, The Carbon Trust, Aviva, Pret a Manger, Mazda, Rightmove and Barclays/Barclaycard.

As Creative Director/Art Director he's won many awards at Cannes, DMA (UK & US), Campaign, Brand Republic, Drum, Creative Circle and The Caples and has been a regular judge at most of these shows.

Cordell has always been a tireless member of the wider creative industries too. He champions diversity initiatives, mentors at creative events, tutors professional courses and is a non-executive board member on industry bodies like the UK's DMA (Data & Marketing Association).

Dave Federico
CCO, No Fixed Address

Dave has the title of "CCO at No Fixed Address" but was hoping for something more cool sounding like "Leader of Alpha Red Squadron at No Fixed Address". Either way, he started his career 20 years ago at legendary Canadian agency Roche Macaulay and Partners and since then he's worked at some of the most highly regarded creative agencies in Canada.

He's also worked with some of the world's biggest brands including IKEA, Mercedes-Benz, Procter & Gamble, Honda, Air Canada, and Little Caesars...and a whole bunch more that only people in Canada would know. And this is the part in the bio that states his work has been recognised by the most highly regarded advertising award shows on earth. True story.

(Including Golds at The Caples Awards 2020 with "Lolli" for Canadian Centre for Child Protection, HERE and "SickKids Airbnb" for SickKids Foundation HERE)

David Guerrero
Creative Chairman, BBDO Guerrero Philippines

David has won Grand Prix for both Creativity and Effectiveness for clients including Pepsi, P&G and the Philippine Department of Tourism. He has also won (literally) hundreds of international and local awards and judged numerous times at AdFest, AdStars, Clio, D&AD, LIA, One Show, and Spikes. He also holds the distinction of being the first from South-East Asia to be appointed as a Jury President at the Cannes Lions Festival.

After starting his career in London, David spent five years in Hong Kong and then moved to Manila. In 1998 he founded BBDO Guerrero, after just 10 years in the business.

Under his leadership, the agency has consistently been one of the most awarded agencies in the region.

At the start of 2020, David was re-elected Chairman of the Association of Accredited Advertising Agencies Philippines (4As), which represents all the leading advertising agencies in the country. In November he launched its first virtual Creative Festival.

He is working on a book about the time The Beatles came to Manila, which he hopes to finish before he's 64.

Elspeth Lynn
Creative Partner, Unbound

Elspeth has an illustrious career, spanning over 25 years of experience in the industry. She has been the Executive Creative Director of M&C Saatchi, Profero and Group Creative Director at FCB Inferno.

More recently she was Executive Creative Director of Geometry London, an agency that specialises in end to end commerce, with activation and experiential at its core.

She stands out as being a successful (and rare) female ECD.

Prior to moving to London in 2008 she owned her own agency Zig with two partners and 140 staff and was awarded Canada's Agency of the Year.

She has been awarded many times over the years including Cannes, The One Show and D&AD. She has also judged just about every award show.

She has been awarded recently for her work on Boots 'Bootiques' experiential, as well as at Cannes for #WePlayStrong, a social and influencer campaign which encouraged young girls to play football

Her most recent campaign is #ShesMyHero for the World Woman Foundation which will be featured at the UN for International Woman's Day 2021 and features primatologist Jane Goodall and astronaut Jessica Meir to inspire a million girls around the world to follow their hearts and ambitions.

Though Elspeth has above the line, below the line and through the line experience, her focus and passion is now about integrated ideas that create growth.

She also has appeared in Architectural Digest for her interior design and placed at The British Office Design Awards for her redesign of Geometry.

Gavin McLeod
Executive Creative Director, Ogilvy Sydney

At Ogilvy Sydney, Gav has played a driving role in reinvigorating the agency's creative reputation over the past two years. He believes his job is to foster creative and collaborative cultures and has done so at some of the world's most innovative creative agencies such as R/GA and AKQA.

Gav has won over 250 industry awards for his work at creative festivals such as the Caples, Cannes Lions, D&AD, One Show and Effies.

As a consequence, he has been invited to chair award panels at a number of shows and was once described by a journalist as a 'classy and charming' Chair. His Mum was much more impressed by this than all the award stuff.

Iska Hashim
Executive Creative Director, Leo Burnett Malaysia

Iska is Executive Creative Director of Leo Burnett Malaysia, the Effies Awards 2019 Agency of The Year. It was also ranked as Campaign Brief Asia's #1 Malaysian Agency for 2017, 2018 and 2019. And Advertising + Marketing's 2017 Overall Agency of The Year.

He served as Creative Council Deputy Chairman and Film Jury of the revamped Kancil Awards, where Leo Burnett was the most awarded agency in 2018. And recently judged at AdStars 2019.

Iska would like to think he plays a small part in making all of this happen.

On his own accord, Iska has won numerous accolades at the Kancil Awards, AdFest, One Show, and AdStars.

Jenna Young
Executive Creative Director, Weber Shandwick New York

Recognized by Campaign Magazine for Conquering Creativity in the 2020 Female Frontier Awards, Jenna has made a career solving problems with creative leaps. She established the creative department at the HQ office of Weber Shandwick in NY, supporting leading brands with award winning work that has been noted in this agency's many Ad Age A-List wins. She's acquired a pride of awards over the past 7 years from most of the leading global industry shows, and made the rounds on juries, but Caples is all that counts for this version of her bio and she's thrilled to be invited to judge. She works across too many clients to name but one of them has recently added her to their global creative council which may have made them her favourite.

A mentor in the IPG women's leadership network, Jenna is proud to have brought up a strong group of female creative directors. She is a frequent industry panellist, moderator, virtual award show presenter, podcast guest and occasional University lecturer. All while attempting to get three elementary school kids to pay attention to their teacher on zoom and forgetting to feed the dog.

Jen Speirs
Executive Creative Director, Rothco | Accenture Interactive

Jen Speirs has created award-winning work for brands like McDonald's, Carefree, Arnott's, Berlei, TAL, Irish Rugby, Facebook and UN Women.

She has been on several award juries, including Cannes, Spikes, The Clio's, ADC Awards and The Immortals – and been invited to speak at events, such as the inaugural Australian 3% Conference. Her work has been awarded at shows including Cannes, The Clios, NY Festivals, ADMA, AWARD, The Effies, John Caples and Spikes.

Throughout her career, Jen has had the privilege of working with some amazing people and has pitched for, won and run some much-loved brands. Whether it's for bras, booze, banks, beauty or burgers, her passion is to create iconic, culturally-relevant communications, in any media – and to do so in a diverse creative department.

Jill Applebaum
Chief Creative Officer, Wunderman Thompson, New York

Jill may just love brands more than people. Jill just joined Wunderman Thompson NY as Chief Creative Officer while under COVID lockdown. She comes from the Facebook Creative Shop. Her work has garnered all major industry awards including the Titanium Cannes Lion and has been listed as one of Fast Companies Most Creative People in Business. Jill doesn't like to toot her own horn, but for you she's made an exception.

Jonathan Butts
President, Blackwing Creative, San Francisco

Jonathan has worked at big ad agencies in big cities including Publicis Groupe and Brann Worldwide (now EURO RSCG). He's worked at boutique shops in the Midwest. And he started a San Francisco agency just before the 2008 recession, then sold it six years later to a top U.S. B2B marketing firm.

He has developed global campaigns for Microsoft, HP, WebEx, Intel and Visa. And national campaigns for Sprint, United Airlines, Bermuda Board Of Tourism, L'Oréal , American Century Mutual Funds, and The San Francisco Design Center.

His work has been recognised by The One Show, Communication Arts, Advertising Age, The New York Festivals, The Caples International Awards, The International ECHO Awards, The National ADDY Awards and more.

Jonathan also contributes to the marketing industry by speaking at events and judging competitions including, ECHO, ADDY, Mobius, Creativity International Awards and, of course, The Caples Awards.

Karl Wolfgang Epple
Executive Creative Director, Independent

Karl Wolfgang Epple was with WPP's thjnk group in Germany for a long time before he decided to go to New York City in 2019. Corona circumstances made him return to Europe recently. He has used the pandemic to write a novel and re-learn some Samoan – his mother's native language. It's going ok so far.

Karl's work has been recognized by numerous industry awards including Cannes Lions, New York Festivals, LIA, Clio, ADC, Eurobest and The One Show.

As well as creating and collaborating, Karl is highly active as a curator. He judges at international award shows and teaches at universities to support the next generation of creatives. When he joined the German ADC he became their youngest member ever. He's a member of ADC*E, IADAS and D&AD too.

Katie Keating
Co-Founder/Co-CCO, Fancy LLC

Katie came to New York for a New Year's Eve party and never left. She loves the excitement born out of big ideas. Especially ideas like founding Fancy with her long-time creative partner, Erica Fite, in 2011 after working her way in, up, and around the big-name, blue-chip agency world.

Fancy is driven to elevate what's important to women by breaking taboos and moving the cultural needle. Highlights include launching category-creating beauty device Iluminage by appealing to women's intelligence instead of insecurity, creating a video about childbirth in Haiti for Health Equity International with a nearly 100% female crew, and normalising the conversation around women's sexual pleasure for adult retail chain Lion's Den.Katie received a BA in Psychology from Kenyon College and a copywriting degree from Portfolio Center. She continues to be fascinated by what makes people tick, particularly her husband and two teenagers in NYC.

Kim Pick
Executive Creative Director, VMLY&R New Zealand

With over 20 years of award-winning advertising experience on some of the world's biggest brands, Kim Pick has worked her way around the globe via leading agencies in New York, London, Singapore, Australia and New Zealand.

Kim began her career as a journalist and film critic in New Zealand before switching to copywriting in Australia. By her mid-20s, she was appointed Creative Director of Singapore agency McCann Erickson, working on accounts across South East Asia. Moving to the UK, she joined Saatchi & Saatchi London, where she was promoted to Regional Creative Director on P&G accounts for Europe, Middle East and Africa. Kim was ECD of RAPP New York until 2014, when she returned to New Zealand, joining Colenso BBDO as Creative Director.

She was appointed national Executive Creative Director of VMLY&R New Zealand in 2018.

A former chair of Australia's AWARD School and member of the New Zealand Marketing Association Digital Advisory panel, she currently serves on the NZ Commercial Communication Council Inclusiveness and Diversity panel and on local and international award juries including, in 2020, AWARD, Axis, One Show Branded Entertainment, One Show Asia Pacific Showcase, and The One Club and The 3% Movement's Next Creative Leaders.

Laurence (Lolly) Thomson
Joint Chief Creative Officer of McCann UK and Co-President of McCann London, alongside partner Rob Doubal.

Two of Adland's top creatives, Rob & Lolly first teamed up in 2006 and blazed a trail at celebrated London hot shops Mother London and Wieden+Kennedy. The success of their partnership was reflected in a rapid rise up the ranks, going from Creative Directors to Exec Creative Directors, and to heading up McCann London as Co-Presidents within a space of just three years. Now CCOs, they spearhead creative excellence across the largest agency network in the UK.

In their eight years since joining McCann Worldgroup the pair have been instrumental in turning around the agency's creative reputation with 2019 being a landmark year, culminating in top accolades including Network of the Year (Cannes Lions), EMEA Agency of the Year (Campaign), and European Agency Network of the Year' 2020 (Effies Effective Index) for the 2nd year in a row.

Rob and Lolly's quest to create purpose-led, contextually relevant and innovative work goes beyond the immediate task of just advertising; their hallmark work challenges the expectations of a medium, acts as catalyst for change and creates new ways to engage with consumers. This not only helps to build a reputation of creative excellence but also contributes to business effectiveness.

Six years' consecutive awards success is mirrored by industry-defying business growth: With 46 Cannes Lions and over 500 awards from all the major international shows McCann London has become one of the most globally-awarded agencies, being named the 10th most creative agency in the world by Warc 100. Under their creative guidance, regional McCann UK offices have also won their first Cannes Lions.

Lolly champions creativity as a panellist, writer and industry juror. He thirsts for inspiration and dreams of one day winning a BAFTA. He's also busy being a dad to two beautiful girls

Meera Sharath Chandra
CEO and Chief Creative Officer, Tigress Tigress

Meera is the founder, Chief Executive Officer & Chief Creative Officer of Tigress Tigress, a digital-led integrated communication agency with operations in India and the UK.

With 35 years of global experience, she is a consistent international award winner and has been on the cyber juries of Cannes Lions, One Show, Clio, Art Directors Club, D&AD and New York Fest multiple times. This is her second appearance as a judge at The Caples.

Meera has worked across the US, the UK, Hong Kong and India. She has been on the global task forces of Ford, Unilever, Citibank and Nestlé. She has been the Executive Creative Director for Momentum Worldwide UK, the Managing Director of Syzygy UK, President & National Creative Director of RMG Connect (JWT), spending a decade at JWT across different geographies, and National Creative Director across five DDB units in India.

A keynote speaker at international conclaves like the World Health Organization in Geneva, the Latin American Advertising Festival and Eurobest, she is also a pro bono contributor towards the WWF "Save The Tiger" initiative.

She is a mentor at the School of Communication Arts, London.

Mike Tunney
VP Senior Creative Director, BBDO New York

Mike Tunney hails from Fall River, Massachusetts, which is known for textile manufacturing, Portuguese culture and accused axe-murderer Lizzie Borden.

Mike has worked for McKay Advertising Boston, Bird Design Los Angeles and Ogilvy New York. He has spent the last decade at BBDO New York.

He won Gold at The Caples Awards 2020 in Radical New Strategy with Mars Petcare/Exxon Mobil "Mutts4Trucks" HERE

Myriam Fynecontry-Herke
Executive Creative Director, Wunderman Thompson Germany

With over 20 years' experience as a concept creative in global agency networks and German independent agencies, Myriam has gathered holistic knowledge in the field of channel-agnostic campaign work as well as developing a special interest in transforming brands.

She has created campaigns for Microsoft, MasterCard, L'Oréal, Condé Nast, Jacobs, Nivea and Eucerin, to name a few.

Her creativity has been awarded at national and international award shows. Today, she is the Executive Creative Director for WundermanThompson Germany and focuses on growing existing accounts, leading pitches to success and setting up global creative teams.

She is also an active participant on the global WundermanThompson Diversity & Inclusion Council.

Nicky Bullard
Chairwoman, MRM Europe

Nicky was the first creative woman to become chair of a UK marketing agency, that being multi award-winning MRM in London, and has just been promoted to Chair of MRM Europe. Creatively recognized across nearly all the major shows, Nicky thinks she's probably worked across every media and sector - but direct and digital are where her heart lies. She's been writing professionally for 30 years and despite running a huge operation, she also keeps her hand in writing and ideating as often as she can. She is a fierce champion of the customer and believes insight is all. She is also hugely passionate about effectiveness - it's only great work if it works.

Nicky says that the campaign of her career is the one we're all living right now, the campaign for equality.

Nina Mohamed-Nor
Creative Director and Brand Consultant

As an integrated communications and CRM specialist, Nina brings more than three decades of industry experience to the party. Because awards matter, Nina has scored local and international awards for integrated and digital campaigns, relationship marketing programs as well as PR- and activation-led projects for a wide mix of local and regional clients which include airlines, fuels, resorts and hotels, FMCGs, fast foods, the banking industry, Tourism Malaysia, government agencies as well as a host of financial institutions, telcos and automotive brands.

A former creative director at Rapp and Dentsu Malaysia, Nina also served on BBDO Proximity Southeast Asia's creative council; trained and mentored young industry specialists and was one of the founding members of the Direct Marketing Association of Malaysia.

Nuno Duarte
Creative Partner, Milford Advertising Lisbon

Nuno started his professional career in 1994 at OgilvyOne. After stints at Euro RSCG, Proximity, Wunderman, Proximity again, and BBDO, Nuno became Executive Creative Director of DDB Lisbon in January 2012, working on the Volkswagen, Hasbro and EDP accounts before starting independent agency Milford Advertising with his long-time work partner Nuno Antunes.

His work has been recognised at the main national and international festivals (CCP, Neurónio, Prémios Sapo, Cannes, Caples and Echos). He has won close to 200 prizes including two shortlists at Cannes, three Silvers and one Gold at the Echo Awards and four Silvers and one Gold at the Caples Awards.

He has been a member of the jury at Cannes Lions, the Echo Awards USA and the John Caples Awards. He chaired the relationship marketing jury of the Clube de Criativos de Portugal in 2006.

Pancho González
Co-Founder & Chief Creative Officer, Inbrax Chile

Pancho González studied advertising at the Universidad de Santiago in Chile and for his MBA at the Berlin School in Steinbeis University, Germany.

He has judged at many advertising festivals including Cannes, Clio Awards and The New York Festivals among many others and was the first Chilean to chair the jury of AME Awards in New York. He has been a speaker in Argentina, Brazil, Costa Rica, Czech Republic, Germany, Japan, Mexico, Russia, South Korea and the United States and teaches at Miami Ad School.

He has accumulated over 150 national and international awards and is ranked a Top 25 Worldwide CCO and Worldwide Top 100 Influencer by Creativepool 2017-2018. He was ranked a Top 10 ECD by BestadsonTV.com in 2017 and was nominated for MKTG BEST 2018 Chief Creative Director in Chile. Lürzer's Aechive named him Chilean top copywriter of the decade and his agency the No.2 Chilean agency of the decade.

Throughout his career he had worked for local and global brands and is happily married and partnered with Carolina, with whom he has a son called Caetano.

Paul Banham
Regional Executive Creative Director, MullenLowe MENA

Paul is one of just a few genuinely strategically-minded creative directors that have worked in and won awards across practically every marketing channel. He has held senior creative positions at McCann, JWT, AIS, Agency.com, and WCRS.

Over the last 20 years, he has built his fully integrated credentials working in top 5 agencies across Branding, Design, Direct, ATL, Integrated, and Digital. His unique cross-channel experience gives him the ability to deliver truly integrated solutions for any and every marketing challenge.

Paul writes regularly for IAB, Revolution, NMA, and Campaign and has had work published in The Guardian and The Wall Street Journal. He is also a keen public speaker and has talked on a variety of subjects for the IAB, IPA, D&AD, Lynx and more recently as a guest of Double Click in Cannes.

His approach and beliefs are simply: look after your brands and your brands will look after the health and the bottom line of your agency. Equally, you're only as good as the people you hire, so surround yourself with incredibly talented and passionate individuals.

He likes to quote Lee Clow, who said, "There's a real difference between being creative and being a creative – you can't claim the latter without consistently proving the former." Passion, he believes, will always trump talent – as talent without passion is nothing.

Ask him what sets him apart from other ECD's, and he says: "I believe there's a silent 'C' in Creative Director – the client's 'Commercial agenda/responsibility.' Creativity is a tool to assist your client in making money. Forcing yourself to confront this constantly is the only way to be successful.

Ron Copeland
VP, Group Creative Director, Rodgers Townsend/DDB

Ron's a creative lead at one of the most awarded agencies in the Midwest US. Well-versed in both above and below the-line-advertising, he's always had a passion for the most targeted marketing.

A strategically minded designer at heart, he's helped propel brands such as AT&T, State Farm Insurance, Bank of America, Monsanto, Spectrum Brands, AB/InBev, Energizer Batteries and Enterprise Holdings.

An internationally awarded creative leader, Ron's been invited to judge multiple shows, including many years with the Caples Awards.

Sebastien de Valck
Executive Creative Director, BBDO Belgium

Before working at BBDO, Sebastien worked at mortierbrigade and at Duval Guillaume Antwerp.

He has won more than 100 national awards at the Creative Club of Belgium including three Grand Prix and several Golds.

In 2020 BBDO Belgium became Agency of the Year and won the Grand Prix for Good at the Creative Belgium awards.

He has also won over 100 awards at almost every major international award show.

Several Cannes Lions including gold, several Eurobest awards including two Grand Prix and several Golds as well as Golds at the New York Festivals, Clio Awards, One Show ... and so on.

In 2020 BBDO Belgium became Agency of the Year and won Best in Show at The Caples Awards. HERE

He has been a jury member for several national and international creative awards shows such as Cannes Lions, New York Festivals, Club des Directeurs Artistiques and Creative Club of Belgium.

He has two sons: Asger(16) and Sune(12).

He doesn't play golf.

Trevor Chambers
Creative Director, Kindred TSB

A senior (integrated – is there such a term anymore?) creative with over 30 years of industry experience. He won his first creative award in 1997 at The Art Directors Club of New York awards and has won Design Effectiveness awards from the DBA and BIMA, as well as Campaign Digital, DMA, Revolution, BIMA, IPA, NMA and D&AD awards.

Trevor has also been a regular judge across brand and digital advertising as well as a creative industry mentor. In his spare time, you'll find him dressed in Lycra and pedalling up mountains.

Vikki Ross
Copy Chief

Vikki has been writing copy for major global brands for 24 years. She specialises in branding and tone of voice and travels the world telling businesses how to talk. They ask her to - she doesn't just turn up and shout through their window.

She mentors at the most-awarded ad school, School of Communication Arts 2.0. She judges at international industry award competitions. She runs copy masterclasses for D&AD and speaks at global events. On Twitter, she created #copywritersunite - a hashtag to support and celebrate copywriters.

Creative Equals named her one of the industry's Top 30 Female Creative Leaders, The Dots named her one of the Top 100 Trailblazers redefining the creative industry and Women in Marketing gave her a Special Award for Outstanding Contribution to Marketing.